Doing Business in America
Sep 07, 2021
from 15:00 till 17:00
Online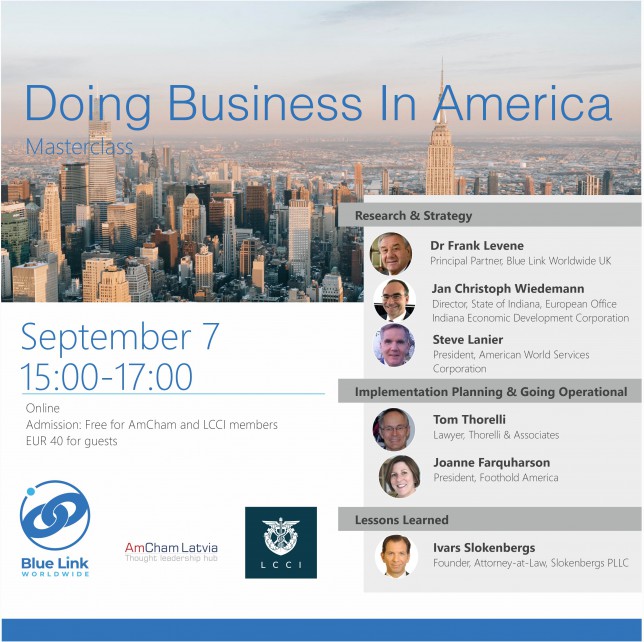 On September 7, more than 40 members of AmCham and Latvian Chamber of Commerce and Industry (LCCI) joined the webinar "Doing Business in America" organized in cooperation with LCCI and Blue Link Worldwide with a variety of international experts who shared practical tips for a successful U.S. market entry:
Joanne Farquharson, President & CEO of Foothold America;
Steve Lanier, President of American World Services:
Dr. Frank Levene, Principal Partner of Blue Link Worldwide;
Ivars Slokenbergs, Founder & Attorney at Law of Slokenbergs PLLC;
Tom Thorelli, Lawyer, Thorelli & Associates
Jan Wiedemann, European Representative for the State of Indiana.
The event included presentations on market research, distribution, market planning and previous experience of Latvian companies doing business in the USA. Members also had the opportunity to ask your question directly to our experts.

Presentations of all speakers are available below:
TO VIEW THE PRESENTATION OF FRANK LEVENE
TO VIEW THE PRESENTATION OF JAN WIEDEMANN
TO VIEW THE PRESENTATION OF STEVE LANIER
TO VIEW THE PRESENTATION OF JOANNE FARQUHARSON
TO VIEW THE PRESENTATION OF THOMAS THORELLI
TO VIEW THE PRESENTATION OF IVARS SLOKENBERGS

TO VIEW THE AGENDA
TO VIEW THE LIST OF SPEAKERS
Speakers:

Joanne Farquharson is an American businessperson who has managed and built companies in the US, UK, and Europe with decades of experience in risk management, employee benefits, insurance, and HR helping SMEs to understand and be successful in the US market. She is the President and CEO of Foothold America Inc and Managing Director of Foothold International Ltd leading multi-country, multi-disciplinary teams in the US, UK, and EU serving clients around the world.
Steve Lanier has been actively working with SMEs for over 25 years to develop the United States as an export market principally for European companies. Since establishing AWS in 1993, he has worked with hundreds of companies and organizations developing their US marketing activities with a focus on strategy development and identifying the best channels to market. He is a frequent presenter and coach to numerous export promotion agencies.? Based in France and with a team in Washington, DC, he bring years of expertise in developing successful and customized strategies to each of our clients. Steve has a BA in Communication from Bethel University and an MA in International Affairs (trade and development) from American University in Washington, DC.
Blue Link Worldwide UK, Principal Dr Frank Levene is a US citizen and UK national. A lifetime as a senior international executive having lived & worked in both the USA & UK. Blue Link Worldwide are experts in global business. Incorporating 'Invest USA' which offers customised and direct access to the right independent advisors and partners to successfully enter the USA. We seek to take out the hassle for an enterprise with US aspirations with support every step of the way. A trusted experienced team of partners to assist you through the US journey providing an array of services; board advisory, expansion strategy road map, location advice, business support, source funding, compliance, legal & set up, taxation & accounting and access to government & trade bodies. Please see: https://blue-link-worldwide.com.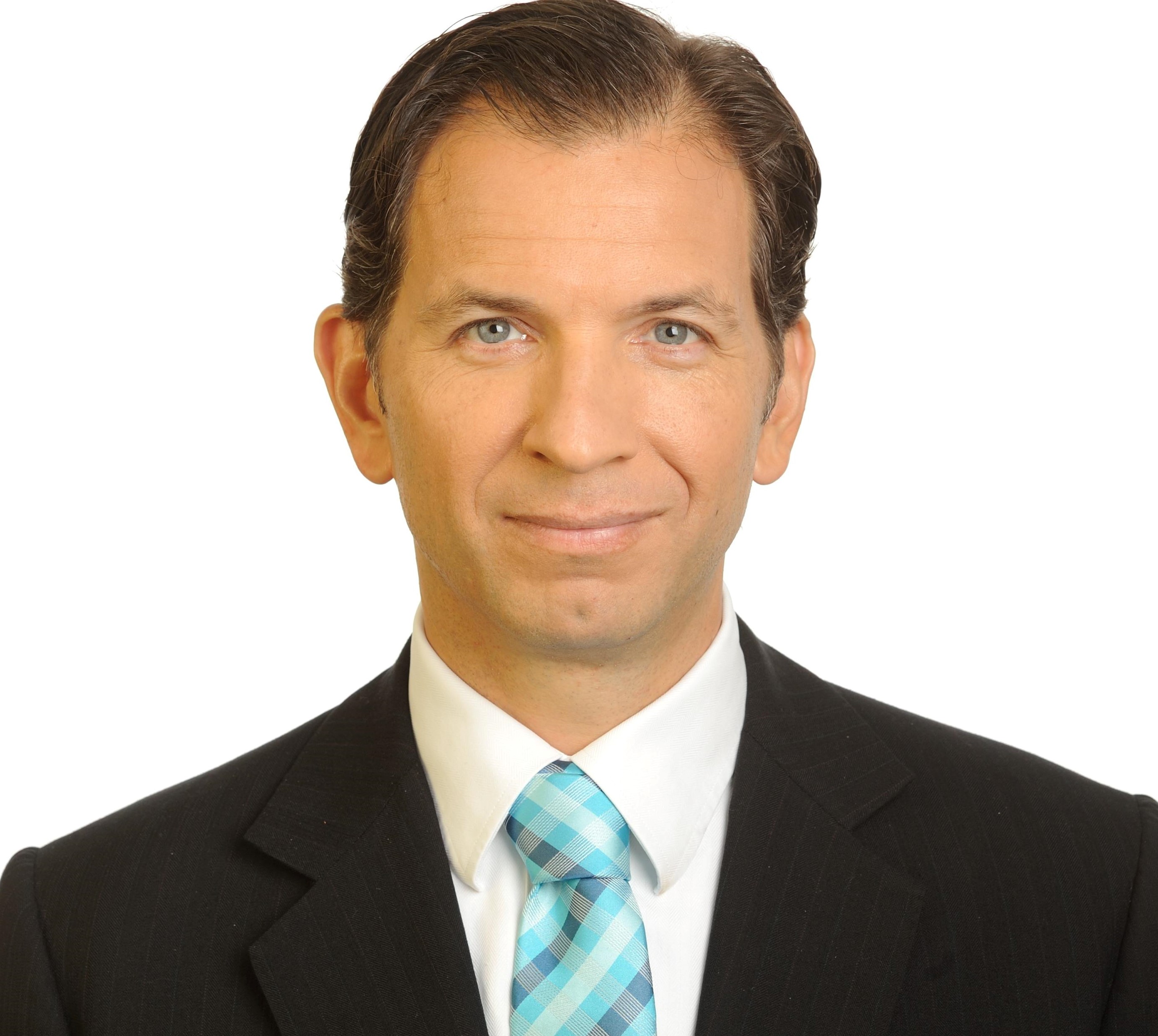 Ivars Slokenbergs is a Latvian-American lawyer, licensed in New York, and the founder of Slokenbergs PLLC – a law firm serving Baltic companies operating in the United States or contemplating entry to the US market. While currently based in New York, earlier he lived in Latvia for more than a decade, working at Ellex Kļaviņš as a corporate lawyer, advising on M&A transactions and other corporate matters. He served on the Board of the American Chamber of Commerce in Latvia for six years, including four years as President, and also served as Vice-Chairman of the Board of the Foreign Investors' Council in Latvia.
Tom Thorelli is a US lawyer with thirty years of experience working with small- to medium-sized UK companies in minimizing legal risk when doing business in the United States. Thorelli & Associates combines a broad range of expertise in the fields of intellectual property law, contract negotiations, corporate law, acquisitions, product liability preventive management, and immigration; all with small-firm attention to detail and customer service to create tailored legal solutions for its clients.

The firm's clients range from high-tech startups to companies with software applications, telecommunications, medical devices, automotive and aeronautic industries, consumer products, security technology, consulting services, etc. Over the years, Thorelli & Associates has assisted over one thousand foreign companies in properly structuring their entry into the US. Tom has a close working relationship with DIT offices throughout UK. He is often invited to speak about an array of legal issues, including immigration, product liability preventive management, contract negotiations, etc.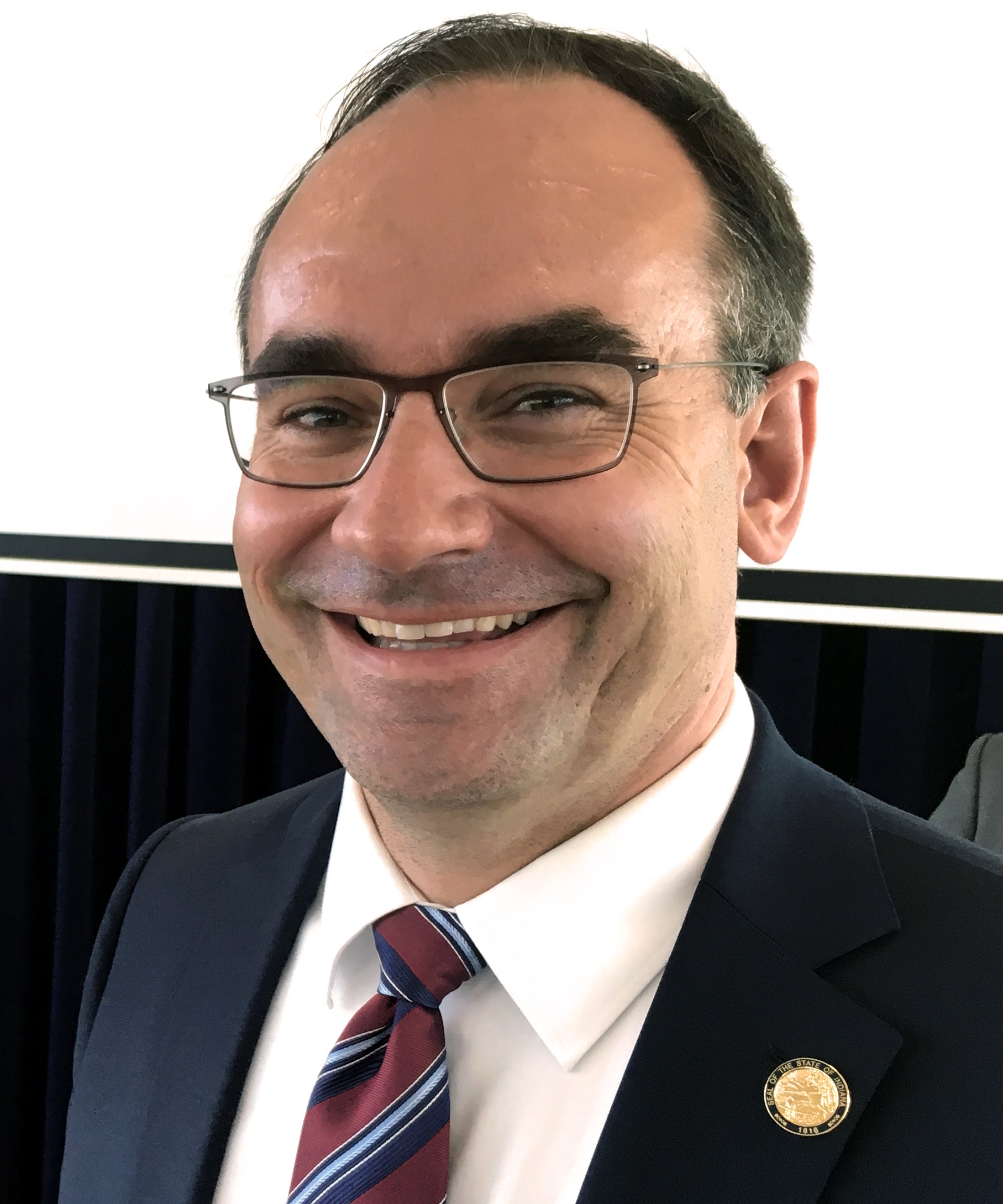 Jan Wiedemann is the European Representative for the State of Indiana. After working for the German American Chamber of Commerce in Atlanta and in Houston he became the European Representative for the State of Indiana in 2012, overseeing all FDI from the EU to the USA and assisting these companies on their market entry to the USA. Jan studied business administration in Göttingen, Germany and in Fontainebleau, France. He is married and has three children.
< Back to Events

AmCham is a great place for networking, exchanging ideas and generating new business directions.
Peteris Kokovkins, Director of Baltic Technology Group