Redefining Leadership in the 4th Industrial Revolution
Mar 09, 2018
from 08:30 till 10:30
Grand Palace Hotel, Pils 12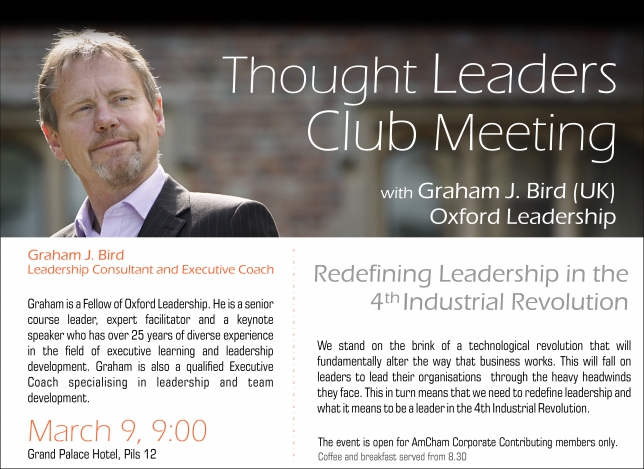 Corporate Contributing members joined the first AmCham Thought Leaders Club breakfast on the topic "Redefining Leadership in the 4th Industrial Revolution" on March 9, 9:00 at the Grand Palace Hotel.
The event featured a special guest from the United Kingdom Graham J. Bird, Leadership Consultant and Executive Coach (Oxford Leadership). We stand on the brink of a technological revolution that will fundamentally alter the way that business works. This will fall on leaders to lead their organizations through the heavy headwinds they face. This, in turn, means that we need to redefine leadership and what it means to be a leader in the 4th Industrial Revolution.
Over this meeting, members both heard the latest Oxford Leadership findings on the topic as well as had a lively discussion on how these principles apply to managing our top-tier level member companies.
Thought Leader Club
is the newest AmCham program designed exclusively for the top management of our Corporate Contributing members. The aim of the program is to bring together leaders from some of the top companies in this country to exchange views on issues like leadership, business development as well as improving the business and investment climate in Latvia. We are confident that this will grow as a forum that will benefit both the leaders of our Corporate Contributing companies as well as AmCham's work on improving the business environment in Latvia. We invite our top-tier members to get involved and build a strong AmCham community that upholds our standard of leading by example.
About the Speaker:
Graham J. Bird is a Fellow of Oxford Leadership. He is a senior course leader, expert facilitator and a keynote speaker who has over 25 years of diverse experience in the field of executive learning and leadership development. Graham is also a qualified Executive Coach specialising in leadership and team development.
Expertise
Graham has been at the forefront of Oxford Leadership's open Self Managing Leadership® programmes across Europe and in the UK for over a decade. His most recent activities include the delivery of leadership and team development programmes to Oxford Leadership's clients BASF, Akzo Nobel, Metro, SEB Bank, Roxtec and Telefónica O2, Teito, Lufthansa, Ferrovial, Novartis, Vedior, Pepsico and more recently, Damen Shipyards Group. He is also involved in delivering Senior Leadership Programmes at the Nyenrode Business University in the Netherlands and major cultural change programmes across NGO's, including the British Red Cross and Oxfam.
Qualifications
Graham is a certified Master Practitioner in Neuro-Linguistic Programming and holds a Diploma in Business Coaching. He has an advanced certificate in Executive Coaching, and also an Advanced CIPD Certificate in Psychology for Trainers. Most recently he has earned a post-graduate diploma in Leadership and Change, awarded by the University of Exeter Business School, where he is currently studying for a Masters Degree.
This program is specially designed for AmCham Corporate Contributing members.
< Back to Events

AmCham represents the interests of its members, making membership a valuable asset.
Matiss Kukainis, Partner at Spigulis & Kukainis