Unlocking the business opportunities: Latvia & USA
Mar 09, 2016
from 15:00 till 17:00
LCCI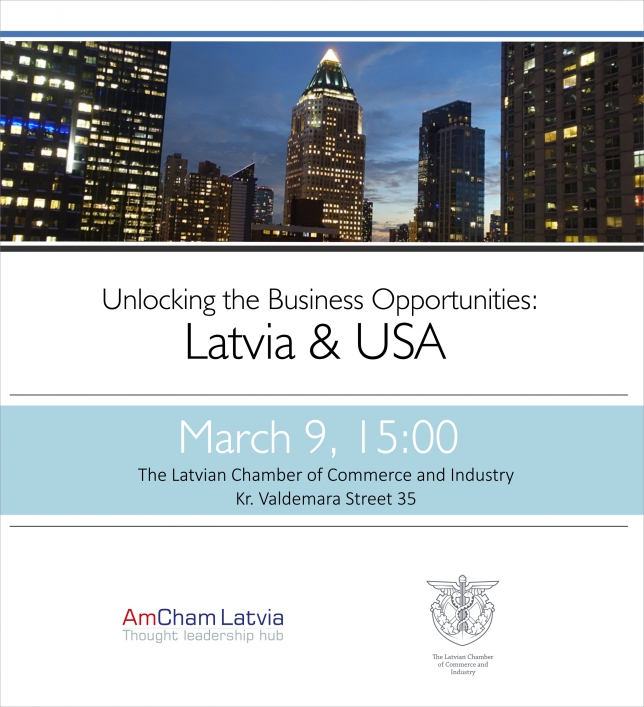 AmCham in cooperation with the Latvian Chamber of Commerce and Industry (LCCI) held a seminar "Unlocking the Business Opportunities: Latvia & USA".

Ahead of the seminar AmCham and LCCI signed a cooperation agreement with the aim to jointly strenghten trade and investment between Latvia and the U.S.

The seminar was opened by Aigars Rostovskis, Chairman of LCCI, Arnis Kakulis, President of AmCham Latvia and Sharon Hudson-Dean, Deputy Chief of Mission of the U.S. Embassy.

At the seminar AmCham and LCCI launched a new initiative "Gateway to the USA" which is a joint business network platform connecting the professionals and business representatives in the U.S. with the Latvian businesses and assisting them to do and expand their business activity in the U.S.

The seminar offered an insight into the current bilateral trade and investment relationship, explained the Gateway to the USA program and introduced another initiative called Trade is Key established by AmCham Estonia. Matiss Kukainis, Partner and Attorney at Spigulis & Kukainis presented 10 things businesses must know before entering the U.S. market.
The panel of five companies - Clusterpoint, Orkla Confectionary, SAF Tehnika, Tilde, Valmiera Glass - who are already active in the U.S. market, provided useful insights on how to get prepared for the entry, major obstacles faced and the reasons for doing business in the U.S. It was a lively debate with many questions from the audience. Among lessons learned were: a proper market research, the importance of visiting trade shows, finding the right partners, adjusting the poduct name and packaging, making sure to patent your know-how, and offering an excellent product and service. The panel was moderated by the AmCham President, Arnis Kakulis.
To view the presentation of LCCI
To view the presentation of AmCham Latvia
To view the presentation of Matiss Kukainis
< Back to Events

Membership is an attestation that we belong to the modern Latvian business community.
Dace Silava-Tomsone, Managing Partner, COBALT