Newsletter

November 2021
Welcome to our monthly newsletter. November was filled with online events exploring several topical and important issues such as relations of employers and employees during the emergency situation and path to ensuring sustainable investments in healthcare.

In close partnership with the Ministry of Health and National Health Service we co-hosted another flagship event - the second annual Health Data Summit Riga to support the digital transformation of healthcare in the benefit of a patient. The summit highlighted a myriad of inspirational health innovations and discussed ways to foster public-private partnerships that can enable acceptance of digital solutions. The summit was watched by over 3000 viewers across the globe.

As Christmas time is approaching, we invite you to join our online charity intitiative supporting our five principal charities.

We look forward to e-seeing you at our Christmas celebration this Thursday to thank you for your support this past year!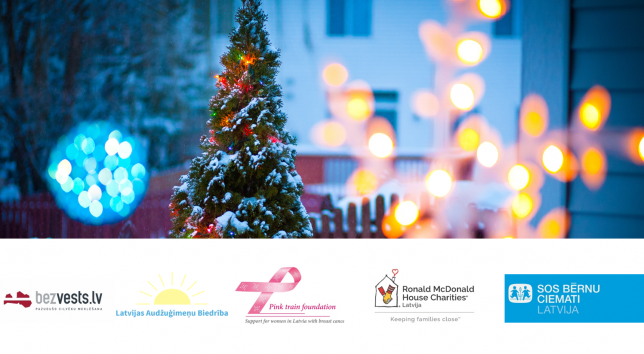 Dec 02, 2021 (15:00-16:30) - Celebrating the season of giving. Read more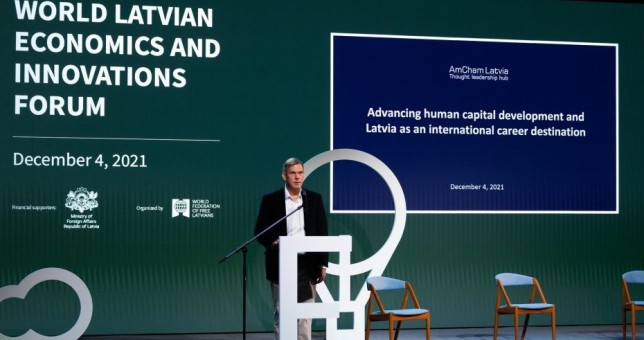 Dec 04, 2021 (10:00-16:30) - World Latvian Economics and Innovations Forum. Read more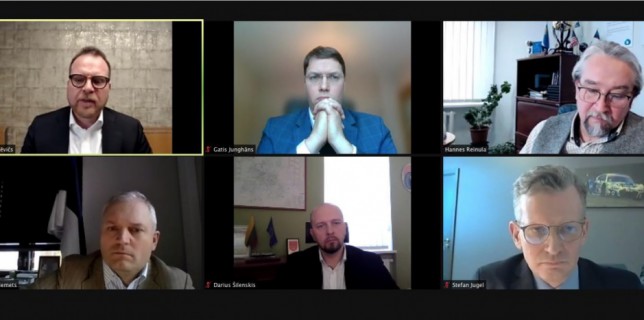 Dec 08, 2021 (11:00-13:00) - Pan-Baltic discussion on energy: How cold will the winter be?. Read more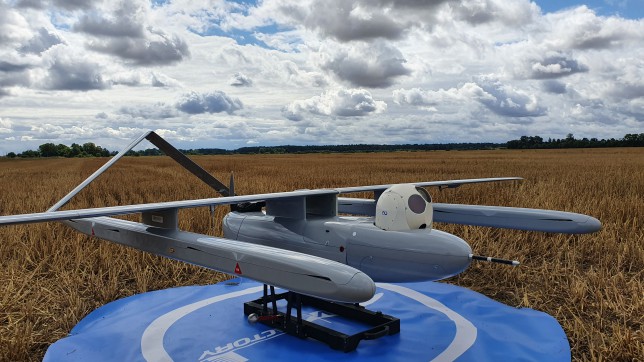 Dec 09, 2021 (16:00-17:00) - UAV Factory receives Latvian-American Innovation Award. Read more
Dec 10, 2021 (10:00-11:00) - How to stay safe, healthy and sane at work?. Read more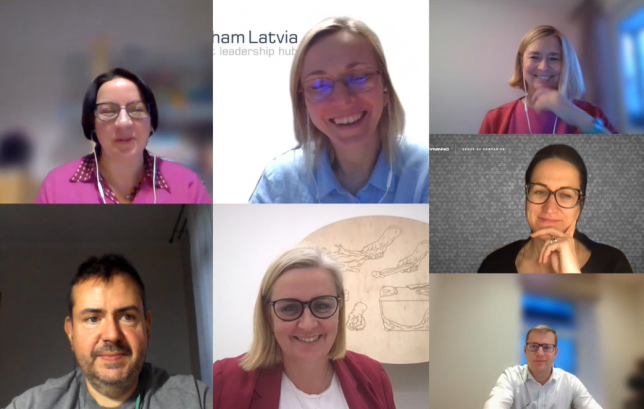 Jan 06, 2022 (15:00-16:00) - Update and priority setting for Labor Force work group. Read more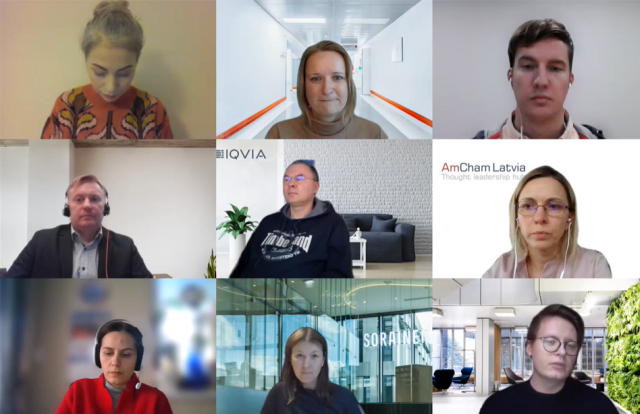 Jan 11, 2022 (15:30-16:30) - Discussing top healthcare issues for 2022. Read more
Health Data Summit: Digital Leap for Improved Patient Care

The second annual Health Data Summit Riga highlighted the importance of healthcare data and the necessity to invest in digital health strategy by various stakeholders: patients, policy-makers, industry and society-at-large. At the summit leading international experts explored how public-private partnerships can accelerate innovation and acceptance of digital solutions. The summit was watched by over 3000 participants across the globe. It was hosted by AmCham, the Ministry of Health in Latvia, the National Health Service in cooperation with Novartis Baltics, Microsoft Latvia and Roche Latvija. Partners: Janssen and Medtronic, and supporters AbbVie and Amgen. Revisit the summit! Read more

Sustainable investments in healthcare

Our latest Connect with AmCham series was devoted to the topic of sustainable investments in healthcare. Joining as a guest speaker was Uldis Mitenbergs, Head of Country Office Latvia at WHO. The discussion was led by Alise Krumina and Irena Teterina, representatives of the AmCham Healthcare Work Group. Read more

Latest update on healthcare projects

At the latest Healthcare work group meeting members discussed progress on three projects: upcoming Health Data Summit, Legal Framework for Secondary Use of Health Data and Value-based healthcare approach. The work group will organize its next meeting on January 11, 2022 to discuss the outcome of 2021 healthcare projects and set priorities for 2022. If you are interested in joining the Healthcare WG, please contact us! Read more

Rights and obligations of employers and employees during the pandemic

On November 3, at the Connect with AmCham webinar Sorainen legal experts Andis Burkevics, Counsel and Maris Simulis, Senior Associate explained the main rights and duties employers need to take into account when organizing work during the emergency situation, including remote working, vaccination against COVID-19 and onsite work. Read more
Welcome Peteris Celms to AmCham

Peteris Celms, an investment professional with more than six years' experience assisting financial institutions, has joined the Chamber as an Individual member. He currently works as a client investment portfolio manager at BlueOrange Bank AS and is responsible for financial market analysis, daily accounting, reporting and strategic planning. A warm welcome to Peteris! Read more

MikroTik becomes top-tier member


We are delighted to accounce that MikroTik, hardware and software provider for Internet connectivity in most of the countries around the world, has upgraded from Corporate to Corporate Contributing membership. The company was founded in 1996 to develop routers and wireless ISP systems and currently employes more than 280 employees. Read more
Printify grants stock options to employees

Printify has closed its Series A investment round announced in September, raising a total of 50 million US dollars in funding. Around 10 million US dollars have been received at the end of the investment round by Printify employees who have chosen to sell their shares in the company. Read more

Baltic RE Group renovates historical building

Baltic RE Group has recently completed the renovation of the office building located at Raina Boulevard 25, where the Printful Latvia team plans to expand its team. The building of more than 3,000 m2 will offer 200 ergonomic workplaces, meeting and common areas, an employee café, as well as a 400 m2 rooftop. it was built in 1972 based on the project of Latvian architect Olgerts Ostenbergs and renovation was designed by Italian architect Adriano Castiglioni. Read more

Join one of FICIL work groups

FICIL is one of AmCham's closest advocacy partners. You are invited to take part in one of its many working groups. The following WGs have scheduled meetings in December: green economy development, digitalization as well as labor force and requalification. If you would like to take part in one of the work groups, please sign up directly here. Read more

Secretary of State Antony J. Blinken visits Latvia

Secretary of State Antony J. Blinken is currently attending the NATO Foreign Ministerial in Riga, November 30-December 1. During his visit, the Secretary will meet with Latvian President Egils Levits, Prime Minister Krisjanis Karins, and Foreign Minister Edgars Rinkevics to discuss the U.S.-Latvian shared commitment to NATO and Transatlantic security and to increasing coordination on global challenges. Read more

Unites States introduces Global Air Travel Policy

On October 25, President Biden announced the United States will adopt a global air travel policy as of November 8. This policy prioritizes public health, protecting U.S. citizens and residents as well as those who come to visit us. All foreign national air travelers to the United States will be required to be fully vaccinated and to provide proof of vaccination status prior to boarding an airplane to fly to the United States, with only limited exceptions. Read more

Hotel Bergs offers a special rental price for their conference room Glass Hall and a restaurant hall on the 1st floor. Read more

Riga Business School offers AmCham members a 10% tuition waiver for Professional MBA and Executive MBA programs! Read more
Radisson Blu Hotel Lietuva offers a very special price for Accommodation - EUR 60.00 single room/ EUR 70.00 Premium class double room with breakfast included. Read more
Follow us on
Member of the AmCham network | © American Chamber of Commerce in Latvia 2023