Newsletter

August 2023
Welcome back after the summer break! Our summer program was filled with many inspiring events starting from the movie premiere of Mission Impossible, a fire chat with Lauris Liberts of Draugiem Group, and the first AmCham Basketball Night with a reception hosted by Ellex Klavins featuring sports marketing expert Martins Porzingis. The AmCham board and staff just met with the U.S. Ambassador to Latvia to discuss mutual cooperation and common priorities.

At the end of August, the board had its semi-annual brainstorming session on AmCham's strategic planning to ensure the successful fall season and continuity of our programs. We welcome your input and ideas on how we can improve our activities and look forward to engaging with you.

The fall season will be even more exciting with a wide variety of events. Pick the ones of your choice and see you very soon!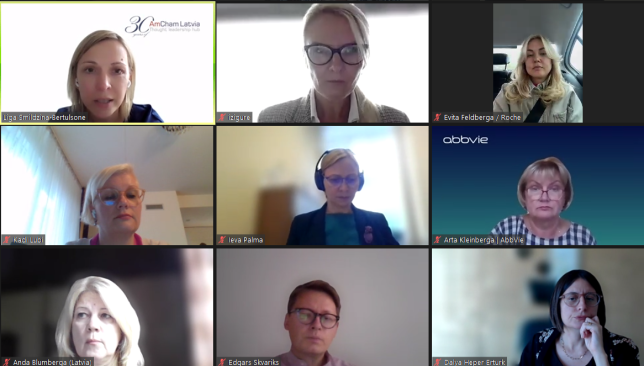 Sep 20, 2023 (15:00-16:00) - Continuing discussion on healthcare funding. Read more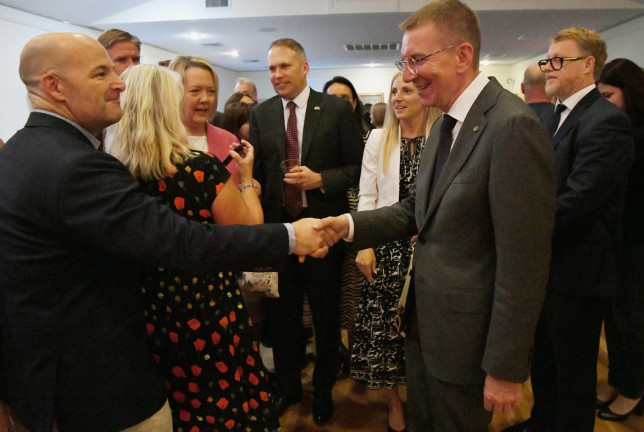 Sep 21, 2023 - Sep 22, 2023 - Spotlight Latvia fosters trade and investment between the U.S. and Latvia. Read more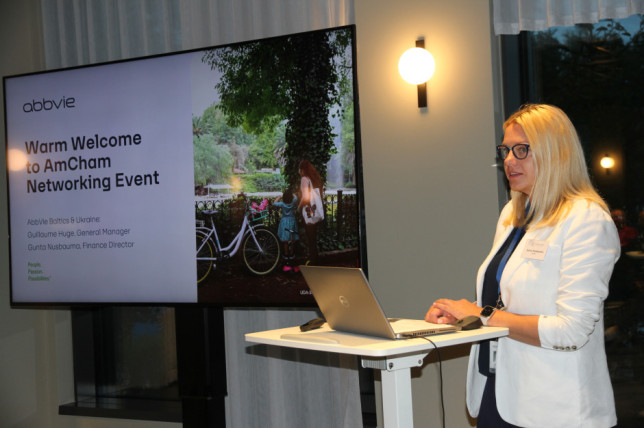 Sep 26, 2023 (18:30-21:00) - Global trends in health care sustainability. Read more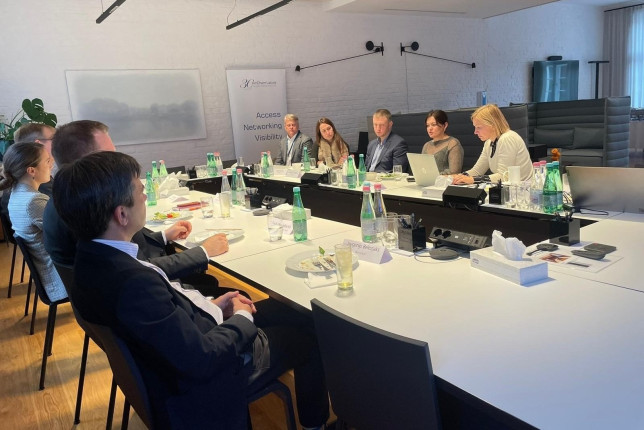 Oct 30, 2023 (13:00-14:00) - Members share their feedback. Read more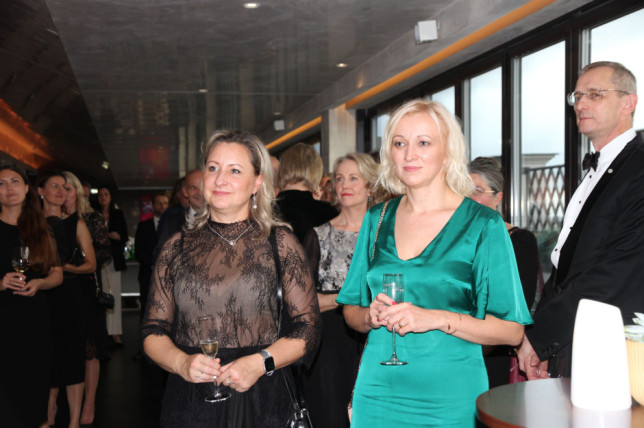 Oct 05, 2023 (16:30-22:00) - Enjoying Verdi's masterpiece: Don Carlos. Read more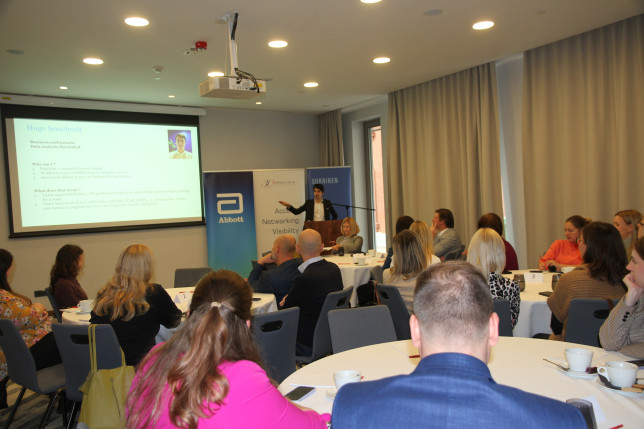 Oct 17, 2023 (13:00-17:00) - Launch of RESAH guidelines promoting value-based procurement. Read more
Oct 18, 2023 (19:30-22:00) - Music brings us closer together. Read more
Oct 26, 2023 (19:00-21:00) - Kukainu team wins Best Chili in Riga 2023. Read more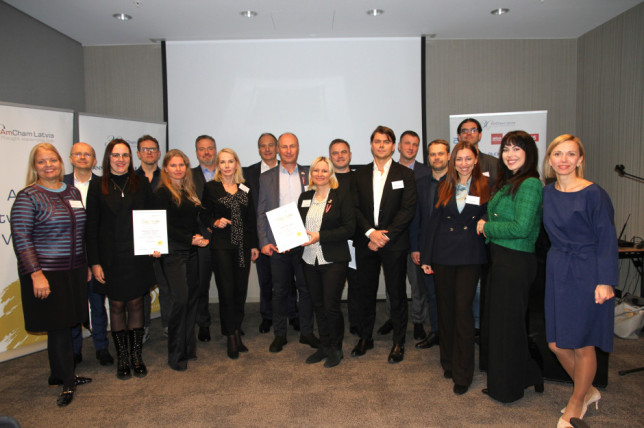 Nov 07, 2023 (18:00-21:00) - Members build networks. Read more
Dec 07, 2023 (18:00-21:00) - Christmas Charity Reception. Read more
AmCham leadership meets Ambassador Robinson

On August 31, the AmCham board and staff met with U.S. Ambassador Christopher Robinson and his economic team for brunch at the Ambassador's residence. It was a great opportunity to discuss mutual cooperation and brief the Ambassador on AmCham's current priorities. On behalf of the Chamber, AmCham President John Tully presented the Ambassador with a certificate of Honorary Chairmanship. We look forward to fruitful cooperation with the Embassy under Ambassador Robinson's leadership! Read more

Exploring creative business opportunities

On August 24, McCann Riga hosted the first AmCham Business After Hours after the summer break with an inspirational presentation by Sintija Popena, Creative Director at McCann who shared professional insights on how creativity can help boost brands and increase business value. Many thanks to McCann for hosting an excellent event with wine, food, good company, and an exciting office tour. Read more

Looking back at the first half of 2023

On August 29, the AmCham board and staff held its semi-annual retreat at Grand Hotel Kempinski Riga to discuss the Chamber's current strategy and priorities aligning them with our 30th Anniversary year. During the first half of 2023, AmCham has focused on fostering trade and investment between Latvia and the U.S., improving the business and investment climate, and enhancing Latvia's human capital. We have been vocal about addressing tax policy issues crucial for foreign investors to increase competitiveness and promote FDI as well as raising both human capital and healthcare topics in various meetings with closest partners and the Ministers of Finance, Economy, Education, and Health. Read more

Latvian team wins FIBA Basketball World Cup Test Match

On August 16, AmCham opened its fall season holding its first Basketball game night. FIBA Basketball World Cup Test Match: Latvia - Finland was the fourth consecutive winning home game for Latvia (score 94:57). Thanks to Ellex Klavins for hosting the pre-game reception with refreshing drinks and snacks at their terrace. A special treat was a session with Mārtiņš Porziņģis who shared his takeaways from his career in the top sports marketing arena. The session was skillfully moderated by Anete Dimitrovska, Associate Partner at Ellex. Read more

Getting inspired by Latvia's first unicorn

AmCham held an insightful discussion with one of the most successful Latvian entrepreneurs - Lauris Liberts, Founder and Co-Owner of Draugiem Group - to hear his views on accessing the U.S. market and the success of his business ventures. Along with the discussion of the success of Draugiem Group and Printful, Lauris shared a very personal story on what drives him in creating new businesses, where he sees opportunities, and what he is next up to. The session was skilfully moderated by AmCham Vice President Pauls Miklasevics. Read more

Among first to enjoy Mission Impossible

On July 11th, AmCham hosted a movie night for the world premiere of Mission Impossible: Dead Reckoning - Part One with a reception part at the Vertigo Bar of Forum Cinemas where members enjoyed drinks prior to the special premiere in the iSense theater that was kicked off with Mission Impossible trivia by Forum Cinemas and a professional biker performance and epic jump. Read more
Mitigate becomes a top tier member

Mitigate, a full-cycle software development company dedicated to offering IT solutions to their clients, has joined the Chamber as a Corporate Contributing member. Mitigate specializes in Custom Business Software Development, API development, UI/UX design, Automation, Mobile Apps, Web Frontend, and DevOps. Welcome, Mitigate to AmCham! Read more

Welcome new member AMOS

Dr. Annemarija Linaresa recently upgraded her Individual membership to Non-Profit with AMOS, a non-profit healthcare foundation centered around world-class, patient-centered, value-based, multidisciplinary end-of-life care. AMOS operates on value-based healthcare principles, not only providing state-of-the-art hospice services, but also creating efficiencies for the entire Latvian healthcare sector by off-loading hospitals, emergency rooms, emergency medical service brigades, and family doctors. We warmly welcome AMOS to the AmCham community! Read more
Outlining benefits of digital health

Recently, the Digital Health Strategy by 2029 has been approved by the government. The Digital Health Council has indicated that the full transition to the digital environment should take place by 2029. In this op-ed the AmCham Digital Health subgroup leader Ieva Dzirkale explains why digital health is of utmost importance. Read more

Keeping track on healthcare projects

On August 15, the Healthcare work group members met to review the latest developments on healthcare projects including value-based healthcare, healthcare financing, digital health, secondary health data, and value-based medical tenders. The group also reviewed upcoming events related to various healthcare topics and invited the group members to submit comments for the Cardiovascular Health Improvement Action Plan 2025-2027. Read more
Nasdaq appoints Liene Dubava as Chair of the Management Board

On August 29, Nasdaq announced the appointment of AmCham Vice President Liene Dubava to Chair of the Management Board of Nasdaq Riga Stock Exchange. Liene Dubava replaces Daiga Auzina-Melalksne who is leaving Nasdaq to continue her career as a professional board member. The appointment of Liene Dubava will be effective on October 1, 2023. We would like to thank Daiga for her continued support of AmCham and wish the best of luck to Liene in her new role! Read more

Latvia Tours receives Travelife certificate

On August 29, Latvia Tours received the Travelife Certified recognizing the agency's for the long-term efforts and frontrunner position regarding sustainability and Corporate Social Responsibility in Latvia. The travel agency Latvia Tours with the support of ALTA and ECTA within the framework of the EU SUSTOUR project has become the first tourism agency in Latvia to receive the honorable status of Travelife certification. Read more

Delta Air Lines codeshares with airBaltic

Delta Air Lines and airBaltic have received approval for a codeshare partnership. Riga, alongside Tallinn and Vilnius, will be much easier to reach from USA Delta-covered destinations. The partnership will allow 24 flights for Europe and future cooperation foresees Delta's flights from Europe to the United States as well. The two airlines applied with the United States Department of Transportation more than two years ago. Read more

Grand Hotel Kempinski welcomes 2 esteemed professionals

Grand Hotel Kempinski Riga announces the appointment of two esteemed professionals to its management team. Nahsen Akgul has been appointed as the new Executive Chef and Andrejs Sniķis as the Assistant Food and Beverage Manager. Executive Chef Akgul brings an impressive culinary background and Andrejs Sniķis extensive hospitality experience and a strong background in food and beverage operations. Read more

BaltCap and Draugiem Capital invest in Pepi Rer

BaltCap and investment company Draugiem Capital have invested in the Latvia-based multi-sector production company Pepi Rer, best known for its soft-play toy brand Iglu, floor insulation brand ProVent, construction and packaging materials, to boost the global expansion of the business. After this transaction BaltCap and Draugiem Capital will become the majority shareholders of the company. Read more

Economic growth expected to be slower

The latest Global Economic Outlook by the EY expert research group "EY Parthenon" shows that the GDP of the world economy will grow by 2.6% this year and 2.8% next year, while the growth of the Eurozone will be slower - only 0.7% this year and 1.2% next year. At the end of the year, Latvia's economy might face certain challenges, as the second quarter rapid assessment data show that Latvia's economy has shrunk. Read more

Funding available for U.S. Expert visits to Latvia

All NGO organizations, universities and non-profit institutions are invited to apply for BAFF Baltic-American Dialogue program to receive financial support of up to 10,000 USD dollars to host a speaker from the U.S. to travel to Latvia. Applicant organizations are encouraged to design projects taking place from January 1, 2024 till August 31, 2024 and invite their experts to address topics of mutual importance. Apply by September 15 HERE! Read more

Baltic Market Outlook for 2Q 2023 is out

CBRE Research team shares the data and insights through sector-focused reports for 6 months of 2023: Market Outlook, Investment Figures, Office Figures, Retail Figures as well as Industrial Figures. CBRE invites you to delve into key market segments, emerging investment hotspots, and the driving forces behind the region's commercial real estate realms and see how the first half-year of 2023 has unfolded. Read more

Grand Hotel Kempinski Riga receives Silver certificate by EarthCheck

Grand Hotel Kempinski Riga is proud to have received the Silver Certificate by EarthCheck – a reward earned through demonstrating outstanding performance in environmental protection and sustainability. Kempinski published the first Environmental, Social & Governance (ESG) Report in 2021. It is a reflection of what makes Kempinski sustainable, what successes have been achieved, and where opportunity remains to innovate. Read more

The U.S. Department evaluates Latvia's investment climate

The U.S. Department of State reports on Latvia's progress in combating money laundering, work on encouraging foreign direct investment, and the improvement of the country's business climate. The report emphasizes Latvia's GDP growth in 2022 by 2 percent, the country's 2nd ranking in the OECD's 2022 International Tax Competitiveness Index, and the positive location by providing strategic access to both the EU market and to Central Asia. According to the report, the most significant challenges include a shortage of available workforce, demographic change, quality of education, and a significant shadow economy. Access the full assessment HERE! Read more

Spotlight Latvia to gather business leaders in less than 3 weeks in Boston

Focusing on Technology and Education this year's Spotlight Latvia will take place on September 21-22 in Boston. It will provide a unique opportunity to welcome and meet government officials and business leaders from Latvia and the U.S. One of the panels will be joined by John Tully, AmCham President and CEO of MikroTik. Several AmCham members have agreed to contribute to this conference by sharing their expertise, including Accenture, ERDA, Riga Stradins Unversity, Riga Business School, Roche, SAF Tehnika, Luminor, Latvijas Finieris and Skaal. If you plan to be on the East Coast, do not miss the Spotlight Latvia! The conference is hosted by the Latvian American Chamber of Commerce and supported by MFA, LIAA, ALA, Red Jackets, and AmCham. Read more

Join the PMNET forum as a participant or supporter

Europe's leading precision medicine networking event - PMNET Forum 2023 - will take place in Riga on October 12-13 at the National Library of Latvia. With this forum, the organizers Riga Stradins University, Children's Hospital Foundation, Latvian Children's Oncology Fund, Children's University Hospital Latvia, as well as the Ministries of Economy and Health, will bring together healthcare providers, researchers, industry, policymakers, and patient representatives to contribute to the ultimate goal - to improve patient care and outcomes by promoting development and adoption of Precision Medicine. The event is complimentary, but registration is mandatory. Read more

Join the International Charity Day on September 5

On September 5, Ronald McDonald House Charities Latvija (RMHC) invites you to join the International Charity Day which is being celebrated all around the world and is dedicated to the activities of charitable organizations with an aim to raise awareness of charitable foundations. RMHC, in cooperation with TC Origo, invites you, your families, friends, and colleagues to attend the "Good deeds days" event. Families with children will be able to participate in creative workshops on a healthy lifestyle and learn about healthy nutrition, healthy sleep, and the benefits of physical activity. Read more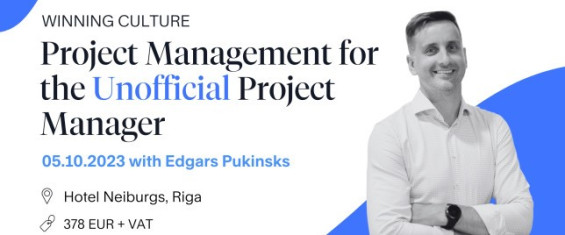 Join live in-person sessions "Project Management for the Unofficial Project Manager" with FranklinCovey Latvia facilitator Edgars Pukinsks on October 5, 2023. Read more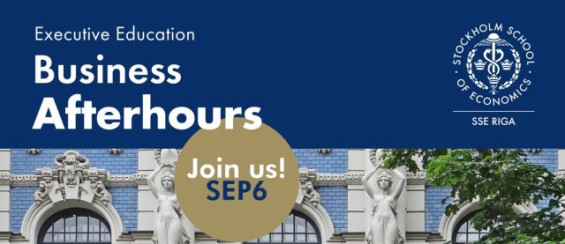 Stockholm School of Economics in Riga invites to Executive Education Business After Hours on September 6, 2023. Read more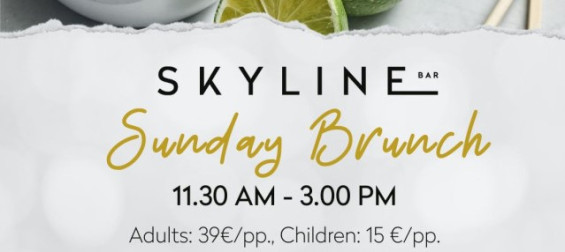 Indulge in a unique Sunday brunch experience at Skyline Bar of Radisson Blu Latvija Conference & Spa Hotel as of September 3, 2023. Read more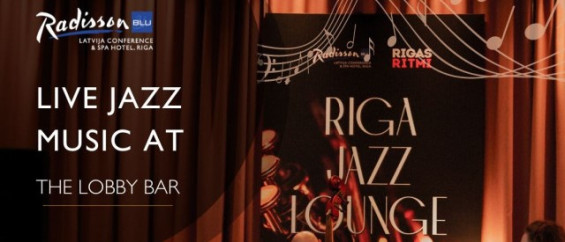 Enjoy Thursday evenings with a fine drink and live music by jazz trio at Radisson Blu Latvija Conference & Spa Hotel's Lobby Bar as of September 7, 2023 every Thursday from 8 pm – 10pm. Read more
Follow us on
Member of the AmCham network | © American Chamber of Commerce in Latvia 2023