Newsletter

February 2022
Welcome to our monthly Newsletter. As we are experiencing a time of unprecedented geopolitical turbulence, we hope that all our members are safe. AmCham, together with its 46 fellow organizations across Europe and its parent organization U.S. Chamber of Commerce, stands in solidarity with the people of Ukraine and condemns the ongoing invasion. To discuss the current conflict and its geopolitical and economic impact, join our online discussion on March 3.

As per request of the Ministries of Defence and Economy, FICIL is compiling information on assistance companies can donate to Ukrainians. The items required include medical supplies, non-perishable food and diesel fuel. Companies who are ready to provide assistance of these items are invited to contact FICIL office at ficil@ficil.lv by today, February 28 at 15:00.

In the past month we met with the Prime Minister to learn more on post-crisis development scenarios for Latvia. Together with the U.S. Emabssy we held a Pan-Baltic webinar on Trade Secrets. Just last week Economist Morten Hansen addressed members on economic prospects and explored the topic of rising inflation.

We have prepared a lot of events both online and in-person for you in the coming month, and we hope to see you at our most important event of the year, our Annual General Meeting on March 10. Please stay safe and let us know if we can provide assistance and support to you during these challenging times.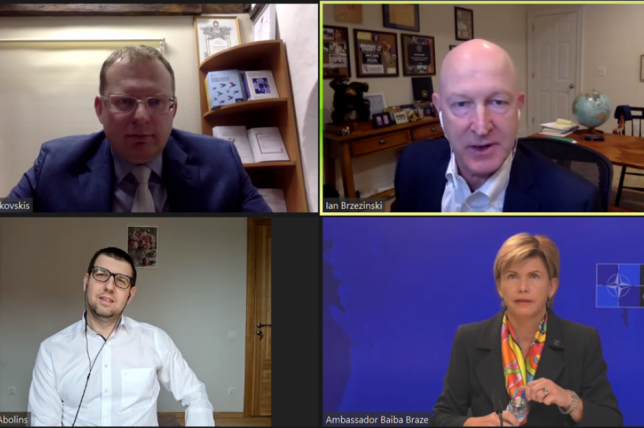 Mar 03, 2022 (15:00-16:00) - Ukraine-Russia war: geopolitical and economic impact. Read more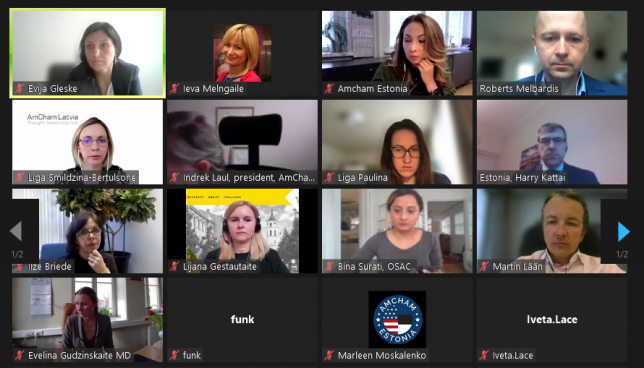 Mar 08, 2022 (15:00-16:30) - Pan-Baltic OSAC event: Border security and labor issues. Read more
Mar 10, 2022 (15:00-16:00) - AmCham reviews last year activities and elects board. Read more
Mar 11, 2022 (13:00-14:00) - Upcoming changes in education system in Latvia. Read more
Apr 01, 2022 (08:00-19:30) - Spotlight Latvia takes place in L.A.. Read more
Apr 04, 2022 (16:00-17:00) - Discussing latest healthcare projects. Read more
Apr 20, 2022 (12:00-14:00) - U.S. and Latvia: Unlocking opportunities in times of uncertainty. Read more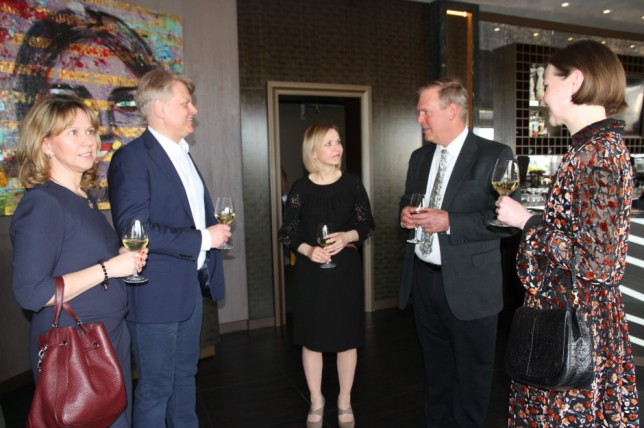 May 19, 2022 (17:30-21:00) - Enjoying opera "Don Giovanni" premiere. Read more
Prime Minister outlines plans for post-pandemic development

On February 10, AmCham hosted an online meeting with Krisjanis Karins, Prime Minister of Latvia who outlined potential post-crisis development scenarios for Latvia, further steps to foster Latvia's competitiveness and addressed current issues such as the energy crisis, reforms in education and healthcare as well as the immigration policy. The discussion was moderated by Vladlens Kovalevs, Managing Partner of VA Government. Read more

Pan-Baltic webinar on Trade Secrets: Protecting & Enforcing IPR

On February 8, around 80 participants from all three Baltic countries had an exclusive opportunity to learn about the protection of trade secrets and gain best practices from both the public and private sectors. Ingrida Karina-Berzina, AmCham member and former President gave a presentation on the Trade Secrets Framework and Ieva Andersone, AmCham member and Attorney at Sorainen explored the topic Protecting Trade Secrets and Enforcing Rights. Read more

Is there life after Omicron?

On February 4, members and guests had an opportunity to join a webinar on the COVID-19 evolution, its spread and the status of new Omicron-specific vaccine with epidemiologist Nikita Trojanskis and Aija Griskevica, Medical Manager Vaccines/Hospital at Pfizer. Read more

Back with a vengeance - but for how long?

On February 24, Morten Hansen, Head of Economics Department at SSE Riga and Vice-Chairman at the Fiscal Discipline Council of Latvia addressed members on the current economic situation and explained the main causes of rising inflation. Read more

Overview of recent healthcare projects and priorities

On February 22, members of AmCham Healthcare work group gathered to discuss the healthcare priorities set for this year and to get an update on activities of three ongoing projects: Secondary data framework, Value based healthcare approach and sustainable healthcare funding. Read more

Reviewing new lobbying regulation

On February 2, AmCham members discussed the new lobbying regulation. It was decided to propose to align several new regulatory enactments with the existing legal framework. Members comments will be compiled and sent to the Saeima indicating potential areas for improvement. Read more
Bayer joins our membership

Bayer, a Life Science company with more than 150-year history and core competencies in the areas of healthcare and agriculture, has joined the Chamber as a Corporate member. The Bayer Group comprises 385 consolidated companies in 83 countries with global headquarters located in Leverkusen, Germany. We are excited to announce the addition of a new member of our community! Read more

Welcome TV3 Group to AmCham

TV3 Group Latvia, a biggest media group in Latvia uniting 5 own produced TV channels - TV3, TV3Life, TV6, 3+, TV3Mini, two radio stations - Star FM and Top Radio and news and entertainment and video on demand portals tv3.lv and tv3play.lv, has joined the Chamber as a Corporate member. We warmly welcome TV3 Group Latvia to AmCham. Read more
AmChams stand in solidarity with the people of Ukraine

AmCham along with the Latvian and U.S. governments and our partner organizations the U.S. Chamber of Commerce and AmChams in Europe condemns the ongoing invasion of Ukraine which violates international law and endangers peace and security across the region. We stand in solidarity with the people of Ukraine and encourage members to support the efforts to alleviate the human suffering by contributing to organizations providing humanitarian aid. We invite you to take part in FICIL's survey on the impact of Ukraine situation by March 3. Read more

Ways to help Ukraine

The Ministry of Defence and Ministry of Economics invite companies to lend assistance or donate necessary items to Ukrainians to reach out until February 28, 15:00. Welcome are medical supplies, non-perishable food and diesel fuel. If you are ready to extend help, get in touch with FICIL office ficil@ficil.lv who is compiling the list of companies. Read more
Take our business confidence survey

Ahead of the Annual General Meeting we are conducting an express business confidence survey to assess your confidence levels for the coming year. It will only take a couple minutes of your time. Your input will be very helpful. Read more

Edgars Lodziņš becomes a partner in COBALT Latvia office

As of 1 February 2022, Attorney at Law Edgars Lodziņš is appointed as a Partner in COBALT Latvia office. He becomes the 41st Partner at COBALT joining the Baltic Banking and Finance leadership to foster further development and position of the practice in the Baltic region. Read more

Results of Corruption Perceptions Index 2022 announced

According to the latest results of Corruption Perceptions Index 2021, Latvia's score has increased by 2 points compared to 2020, rising to 59 out of 100. TI Delna points out that in order to improve Latvia's performance in the Index, the responsible institutions need to act decisively and stop delaying decisions in areas such as preventing waste of public resources and the promotion of political and business integrity, while the private sector must also step up its role in the fight against corruption. Read more

ISL opens scholarships & Elementary School Program

The International School of Latvia (ISL) scholarships program that subsidizes 3 years of scholarship of study for 10th-12th grade students is open for applications. This is a unique opportunity for local students to experience a global environment and world class faculty and facilities. Application deadline is April 1, 2022. ISL also has recenlty announced their first PreK 2 (Elementary School Program) for the 2022/23 school year. Read more

CBRE releases Baltic Market Outlook 2022

CBRE Baltics has released CBRE Baltic Market Outlook 2022. According to the report, last year the Baltic markets recorded historically highest capital investment volume exceeding EUR 1.5 bn. Office employment will continue to rise, and so will the need of quality offices. Retail will continue surprising customers and ESG will be top of the agenda for the real eastate decisions. View the entire report! Read more

FICIL announces new Board for 2022

On 17 February, FICIL held its Annual General meeting where the new Executive Board was elected. There is one newcomer to the FICIL Board in 2022 – Reinhold Schneider, Chairman of the Board Schwenk Latvija, Zlata Elksniņa-Zaščirinska, Country Managing Partner PwC Latvija, Valts Kārkliņš, Large Business Customer Director at BITE Latvia, and Alvis Ērglis, Director of Sales at Circle K Latvia. Read more

Join Ambassadorial Briefing on the situation in Ukraine, this Tuesday March 1st 10:30pm (Riga Time). Read more

RBS Mini MBA program in Digital Transformation organized by the Investment and Development Agency of Latvia. Application deadline: March 3. Read more

Celebrate International Women's Day on March 8 at restaurant Esplanade of Radisson Blu Latvija Conference & Spa Hotel! Read more
Enjoy Women's Day 3 course dinner on March 8 at Radisson Blu Elizabete Hotel's restaurant CUT. Read more

A very special offer for Women's Party Day on March 8 at Skyline Bar, Radisson Blu Latvija Conference & Spa Hotel!! Read more

Hotel Bergs offers a special rental price for their conference room Glass Hall and a restaurant hall on the 1st floor. Read more
Grand Hotel Kempinski Riga is back with Sunday branches served once a month from 12:30 until 16:00. The closest one on March 6, 2022 – International Women's Day Brunch. Read more
Follow us on
Member of the AmCham network | © American Chamber of Commerce in Latvia 2023