Tomass Pildegovics wins WordMaster 2013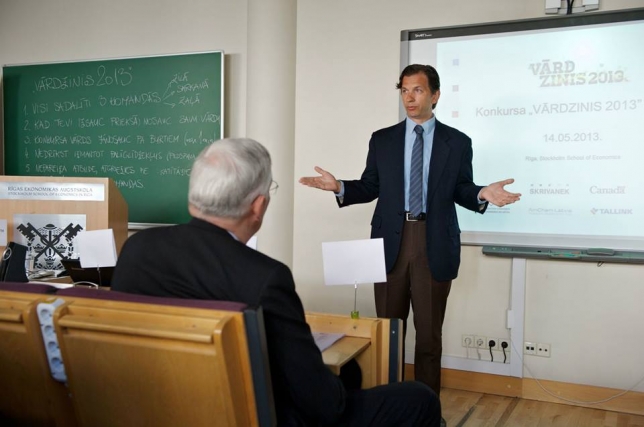 The 14 May 2013 saw the conclusion of the world-famous English language contest for secondary school students, VardZinis 2013, which elsewhere is known as Spelling Bee, and which was organised by Skrivanek Baltic for the first time in Latvia. In a fiercely-fought competition, first place was won by the tenth form student, Tomass Pildegovics, who comes from Riga State Gymnasium No.1. The runner-up was the eleventh form student, Zanis Saulevics, from Daugavpils State Gymnasium, and third place was taken by the twelfth form student, Andis Maks, from Gulbene Secondary School.
The contestants were secondary school students from educational institutions across Latvia, who competed in terms of their ability to accurately pronounce the given words in English, both grammatically and phonetically. The contestants were assessed by a competent jury: the executive manager and foreign division director of Skrivanek Baltic, Aiga Veckalne, the President of the American Chamber of Commerce in Latvia, Ivars Slokenbergs and the chairman of the board of the British Chamber of Commerce in Latvia, Cameron Greaves.
"This was an exciting and at times very worrisome day for the contestants, jury and audience. We were delighted with the high preparation level of contestants, their good knowledge of English and, last but not least, their stress resilience. The battle for the first place between Tomass Pildegovics and Zanis Saulevics was fierce, with both contestants showing not only good skills of grammar and phonetics in the English language, but also an extensive vocabulary and ability to see analogies and to visualise. I am sure that this contest is going to become a great tradition," after the contest says the executive manager and foreign division director of Skrivanek Baltic, Aiga Veckalne.
< Back to News

AmCham is a place to meet representatives of other industries and understand the business environment.
Signe Velina, Market Access Manager Latvia of Johnson & Johnson