2 good deeds at a time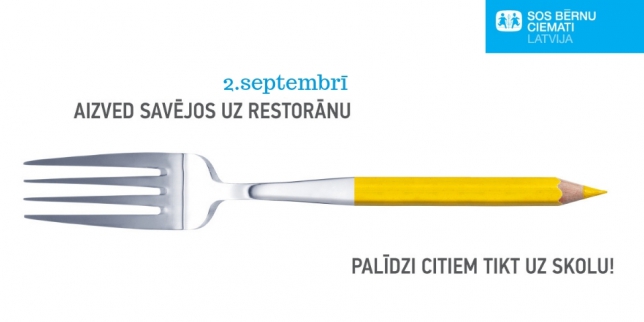 SOS Children's Villages
 together with leading Latvian chefs are inviting families to have a lunch/dinner on September 2nd at cafes and restaurants to engage in the charity campaign "
Take your beloved ones to a restaurant and help others to get to the school
". This will be the fifth campaign in a row and many AmCham members are taking part in it!
The restaurants that are participating in the campaign have decided to donate 10 percent of the turnover generated on the day of the campaign to support the children of the SOS Children's Villages to help them get ready for the school. Participation in the campaign has already been confirmed by cafes and restaurants in Rīga, Jūrmala, Mārupe, Ikšķile, Iecava, Bauska, Valmiera and other cities:
3 pavāru restorāns Tam labam būs augt, Torņa iela 4, Rīga
36. line Grill Restaurant, 36. līnija, Jūrmala
Andalūzijas Suns, Elizabetes iela 83, Rīga
Annas dārzs, Mūkusalas iela 44, Rīga
Baltā māja, Pilsrundāle, Bauskas novads
Bangert's, Pils iela 1, Kuldīga
Bastions, Bastiona iela 24, Valmiera
Bbāra restorāns, Doma laukums 2, Rīga
Brandīns, Rīgas iela 18, Daugavmala, Ikšķile
Cabo Cafe, Roberta Feldmaņa iela 8A, Rīga
Cafe 53, Jomas iela 53, Jūrmala
Cafe Engure, Ostas iela 1, Engure
Casa Nostra, Elizabetes 10b, Rīga
Cydonia, Dzirnavu iela 84, Rīga
Double Coffee (11 restorāni)
Entresol, Elizabetes iela 22, Rīga
Equus, Jēkaba iela 24, Rīga
Fazenda, Baznīcas 14, Rīga
Fazenda, Nometņu 7, Rīga
Fazenda, Vidzemes šoseja 14, Sigulda
Ferma, Valkas iela 7, Rīga
Hercogs Ādaži, Gaujas ielā 4, Ādaži
Hercogs Mārupe, Vītiņu iela 4, Mārupe
Hercogs Ķīpsala, Balasta dambis 70, Rīga
Hercogs Mežaparks, Kokneses prospekts 13A, Rīga
Hercogs Jūrmala, K.Ulmaņa gatvē 150, Rīga
Herbārijs, Dzirnavu iela 76, Rīga
Hesburger (visā Latvijā)
Jauna saule, Rīgas iela 10, Valmiera
Koya, Andrejostas iela 5k-15, Ziemeļu rajons, Rīga
KonTiki, Vējupes iela 2, Vējpriedes, Ādažu novads
La Kanna, Tērbatas iela 5, Rīga
Le Sommet, Slokas iela 1, Rīga
Miķelis, Uzvara, Gailīšu pagasts, Bauskas novads
Mūza restorāns, Visnīca Roxwell, Slimnīcas iela 7, Bauska
Moto pica, Kārļa Ulmaņa gatve 2, Rīga
NEIBURGS Hotel/Restaurant, Jauniela 25/27,Rīga
Neptūns, Jaunķemeru ceļš 1, Jūrmala
Park Inn by Radisson Riga Valdemara restorāns Bocca Buona, Krogus iela 1, Rīga
Parunāsim , Mazā Pils iela 4, Rīga
Piens, A. Briāna iela 9a, Rīga
Radisson Blu Rīdzene Hotel restorāns Piramīda, Reimersa iela 1, Rīga
Radisson Blu Daugava Hotel restorāns Panorama, Kuģu iela 24, Rīga
Radisson Blu Hotel Latvija restorāns Esplanāde, Elizabetes iela 55, Rīga
Radisson Blu Elizabete Hotel restorāns C.U.T., Elizabetes iela 73, Rīga
Rātes Vārti, Lāčplēša iela 1, Valmiera
Rocket Bean Roastery, Miela iela 29/31, Rīga
Rocket Bean Coffee House, Dzirnavu 39, Rīga
Restorāns 3, Kalēju iela 3, Rīga
Rezidence restorāns, Ābelītes, Pilsrundāle, Rundāles pagasts
Rītausmas, Zaļā iela, Bauska
Roma restorāns, Zivju iela 3, Liepāja
Route 88 Grillbārs, Mežotnes iela 69, Rīga
Stenders Pica, Sūru iela 2, Kuldīga
Stenders Pica, Liepājas iela 3, Kuldīga
Stenders Pica, Lielā iela 30, Talsi
Stenders Pica, Jūras iela 9, Ventspils
Stenders Pica, Jelgavas iela 1, Saldus
St. Petrus Restaurant, Skārņu iela 11-2, Centra rajons, Rīga
StockPot, Ģertrūdes iela 6, Rīga
StockPot XL, Krišjāņa Valdemāra iela 36, Rīga
The Traveler, Elizabetes iela 101, Rīga
Vairāk Saules, Dzirnavu iela 60, Rīga
Vairāk Saules, Krišjāņa Valdemāra iela 112, Rīga
Vairāk Saules, Ieriķu iela 3, Rīga
Vairāk Saules, Kurzemes prospekts 1a, Rīga
Vairāk Saules, Krasta iela 46, Rīga
Vairāk Saules, Lielirbes iela 29, Rīga
Valtera Restorāns, Miesnieku iela 8, Rīga
Zilā govs, Meistaru iela 21, Rīga
This charity campaign is a way to accomplish two good deeds at a time - to spend time with your family and to support the children of SOS Childrens' Villages with a delicious meal.
We recommend making reservations in advance as tables are generally limited at each café and restaurant location.

If you are unable to participate in this event, there is always an opportunity to help children living in SOS Childrens' Villages in Latvia by making a donation.
You can donate here or simply by transferring money into Latvian SOS Children's Villages Association account:
Latvijas SOS Bērnu ciematu asociācija
Zemitāna laukums 5, Rīga, LV-1006, Latvija
Reg. No. 40008029381
Accounts:
- SEB bank LV56UNLA0050011994184
- Swedbank LV65HABA0551033254521
- Luminor bank LV44NDEA0000083612402
We would be thrilled if you chose to become a regular supporter of SOS Children's Village. When applying just agree to regular or automatic payment with your bank. Any amount you choose to donate regularly will mean so much to the children, allowing us to provide them with a safe and comforting environment!
If you would like to know about other ways to help SOS Children's Villages in Latvia, you are welcome to contact Dace Straume via email dace.straume@sosbca.lv or calling 25672677.
< Back to News

AmCham works hard to accomplish its goals and is a voice in the business community that is heard.
Filips Klavins, Managing Partner at Ellex Klavins