Newsletter

October 2021
Welcome to our monthly newsletter. We are delighted to welcome new President and Board member and look forward to working under their leadership during these turbulent times.

This month together with the U.S. Embassy we co-hosted a reception to celebrate the 30th anniversary of re-establishment of U.S.-Latvia diplomatic relations looking back at our shared history and accomplishments.

Amidst another lockdown, AmCham will continue to provide information and support to our members addressing the challenges in highly uncertain business environment. Our November program will include several webinars in the Connect with AmCham series sharing experts knowledge of your fellow AmCham members. Feel free to let us know the topics of relevance for your business and areas of expertise you would like to share with others.

We look forward to e-seeing you. Stay safe and be well!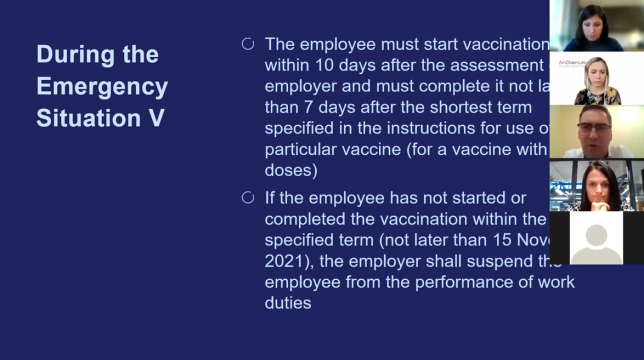 Nov 03, 2021 (11:00-12:00) - Rights and obligations of employers and employees during the pandemic. Read more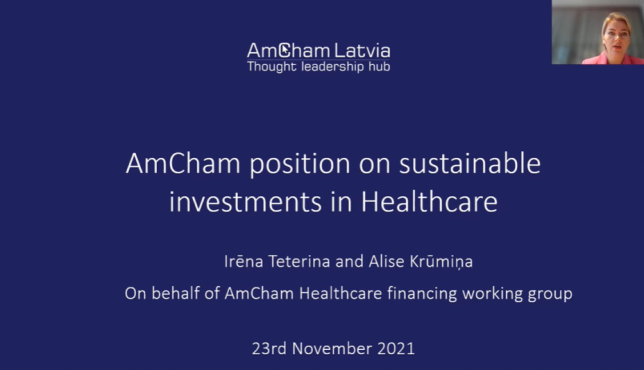 Nov 23, 2021 (11:00-12:00) - Sustainable investments in healthcare. Read more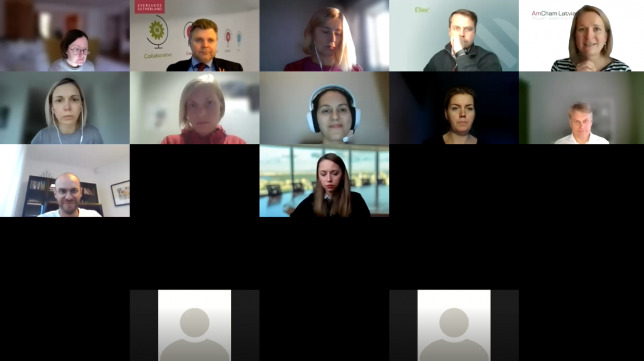 Nov 09, 2021 (15:30-16:30) - Latest update on healthcare projects. Read more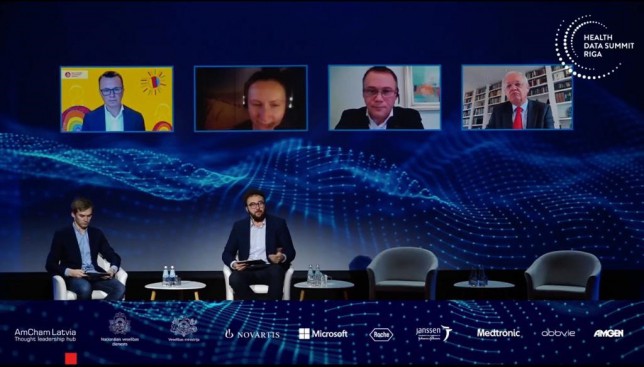 Nov 26, 2021 (10:00-17:00) - Health Data Summit: Digital Leap for Improved Patient Care. Read more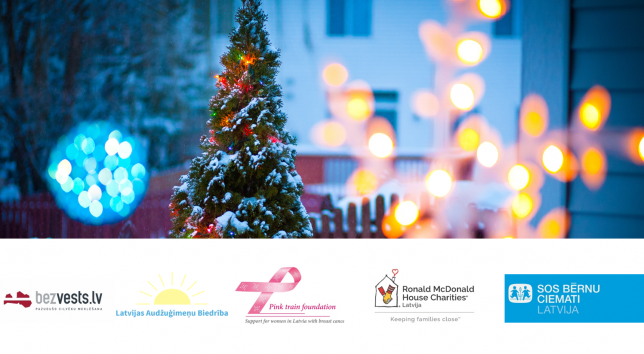 Dec 02, 2021 (15:00-16:30) - Celebrating the season of giving. Read more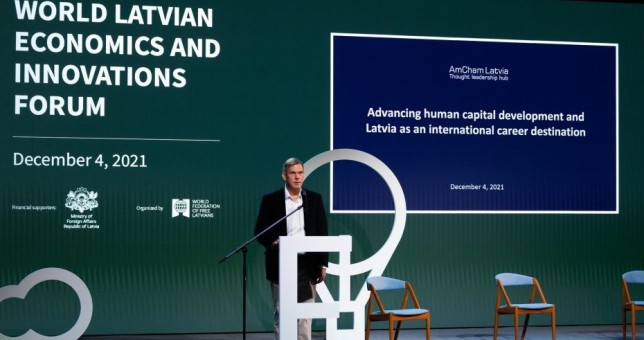 Dec 04, 2021 (10:00-16:30) - World Latvian Economics and Innovations Forum. Read more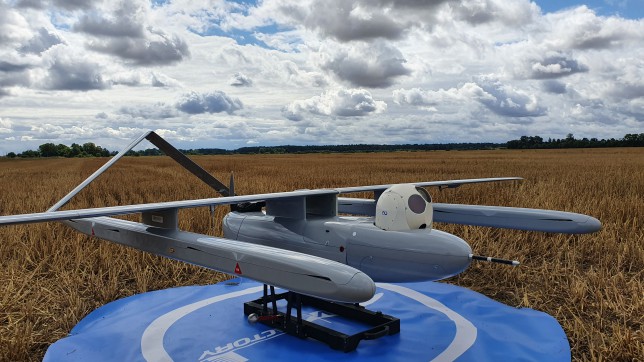 Dec 09, 2021 (16:00-17:00) - UAV Factory receives Latvian-American Innovation Award. Read more
30 years of resumption of U.S.-Latvia diplomatic ties

On October 7, AmCham and the U.S. Embassy in Latvia co-hosted a reception to commemorate 30 years since the re-establishment of diplomatic relations between the U.S. and Latvia. It was a unique opportunity to look back at the last 30 years of our shared history and celebrate this important milestone. Read more

OSAC Meeting

On October 12 OSAC Riga Council met for a meeting at the U.S. Embassy to discuss the topics of cyber security, ransomware and banking cyber threats with guest speakers Greg Schnakenberg, Legal Attache/Special Agent at FBI and Kaspars Briska, Head of Cyber Security at Citadele Bank. Read more

Bond is back

On September 30, over 220 AmCham members and friends had a unique opportunity to attend the premiere of legendary James Bond movie "No Time to Die" at Forum Cinemas. Delicious Bond-themed cocktails were provided by Amber Beverage Group. Read more
Zinta Jansons becomes an Individual member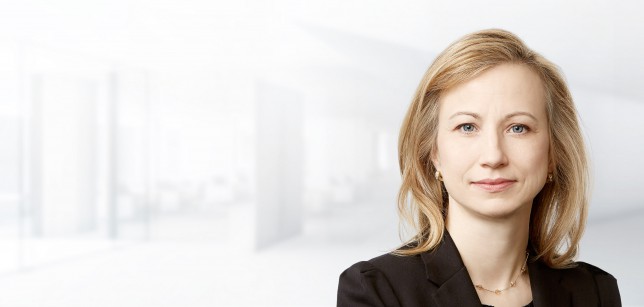 Zinta Jansons, a licensed attorney in NY and NJ and is a certified Latvian tax advisor, has re-joined the Chamber as an Individual member. She has recently left her law firm practice and is currently looking for new professional challenges. She has served on the AmCham Board from 2016-2021, where she was Vice President (2018) and President (2020-2021). A very warm welcome to Zinta! Read more
AmCham calls to invest in health

AmCham released a position calling for sustainable investments in healthcare in order to ensure healthy nation and economic growth. We propose to increase public funding for healthcare by considering to link the healthcare budget to the GDP growth as well as providing the necessary funding for the fight with oncological diseases. View the statement in Latvian and English. Read more

Review on recent healthcare projects

On Sepember 28, the healthcare work group members gathered for a hybrid meeting to discuss the outcome and latest develpoments on the ongoing healthcare projects such as: Increasing public health funding, Oncology data registry, Digital Health Summit, Digital Health Strategy, Legal framework for secondary use of health data and Value based healthcare approach. Read more
AmCham welcomes new President and Board member

The Board of Directors has elected John Tully, CEO of MikroTik as the Chairman of the Board and President of AmCham. He replaces Zinta Jansons who has announced her willingness to look for new professional challenges as she has left Ellex Klavins and, consecutively, the AmCham Board earlier this month. Sarmis Spilbergs, Associate Partner of Ellex Klavins, has been appointed to the Board by the Nominating Committee. Read more

Lightspace Technologies raises 800 thousand euros

Lightspace Technologies has attracted 800 thousand euros from Estonian and Danish business angels and current shareholders. Earlier LightSpace Technologies signed a grant agreement with the European Commission to receive grant funding of 2.25 million euros from EU's Horizon 2020 research and innovation program. These investments will help the company to further develop existing and new products. Read more

New program of digital skills development courses for Baltics

Microsoft together with partners LIKTA and LUMIC launches the Baltic Virtual Internship Project giving everyone the opportunity to improve their digital skills and gain practical experience in virtual internships in Baltic organizations and companies. It is expected that 30,000 people from the Baltics will join the program. The courses in the program "Business and Data Analysis" already started on 6 October. Read more

COBALT joins Mindful Business Charter

COBALT as one of the first companies from the Baltics recently joined the Mindful Business Charter to foster better working practices for mental health and wellbeing. The Charter brings organizations and their service providers together to reach a shared agenda for mental health and wellbeing. "Taking care of our most valuable asset, our colleagues, has been very important for COBALT at all times. Nowadays, with growing uncertainty in the world, paying attention to our colleagues' mental health and wellbeing is of utmost significance, " says Dace Silava-Tomsone, Managing Partner. Read more

Novartis Co-Creating Impact Summit open for registration

Novartis invites to join the virtual Co-Creating Impact Summit 2021 on December 2 brining together thought-leaders and experts from academia, institutions, business, and the financial markets to discuss the expanding spectrum of impact challenges and opportunities. Novartis also offers a virtual exhibition (available from November): ivac-cocreating-impact.com Read more

Latest news from FICIL

FICIL is one of AmCham's closest advocacy partners. You are invited to take part in one of its many working groups. The following WGs have scheduled meetings in November: labor force and education, investment protection and court efficiency as well as green economy development. If you would like to take part in one of the work groups, please sign up directly here. Read more

Trade and Technology Council strengthens transatlantic partnership

On 29 September, the EU and the U.S. formalized cooperation on emerging trade and technology issues, following an inaugural Trade and Technology Council (TTC) summit in Pittsburgh, Pennsylvania. The two sides agreed on areas for common action and the Council's attention must now turn to yielding swift results in order to strengthen the world's largest trade and investment relationship. In October the European Commission launched an online consultation platform - Futurium - where stakeholders can share their views and proposals for the continuation of TTC on technology, economic and trade issues. Read more

In Memoriam Ojars Eriks Kalnins

An outstanding diplomat, public and political figure, Member of the Saeima, former Ambassador of Latvia to the U.S. and AmCham Honorary member Ojārs Ēriks Kalniņš, passed away on October 14, 2021 in Riga. On behalf of the AmCham community, we offer our deepest condolences to Irma Kalnina and entire Kalnins' family and friends. Ojars Kalnins dedicated his extraordinary life to Latvia. We will remember him for his endless support and guidance in enhancing relations between Latvia and the U.S., and his devotion and service to Latvia. Read more
Follow us on
Member of the AmCham network | © American Chamber of Commerce in Latvia 2023