Newsletter

October 2022
Welcome to our monthly newsletter. This fall AmCham has been offering many learning opportunities including a speaker luncheon with Sandis Jansons of Sadales Tikls on green electricity, a meeting for our top-tier members discussing good corporate governance and an expert briefing on Latvia's post-election scene. Our members also had an opportunity to hear from one of the top Baltic economists, Zygimantas Mauricas. After a three-year gap we were finally able to hold our traditional autumn Chili Cook-Off, one of our most fun events of the year.

We warmly welcome new members who have joined the Chamber over the past month: Siemens Healthcare OY, Iron Mountain Latvia and Individual member Renars Rusis! We look forward to connecting them with our members and partners.

We have a busy calendar for the next month - check it out and sign up! We look forward to seeing you at one of our events.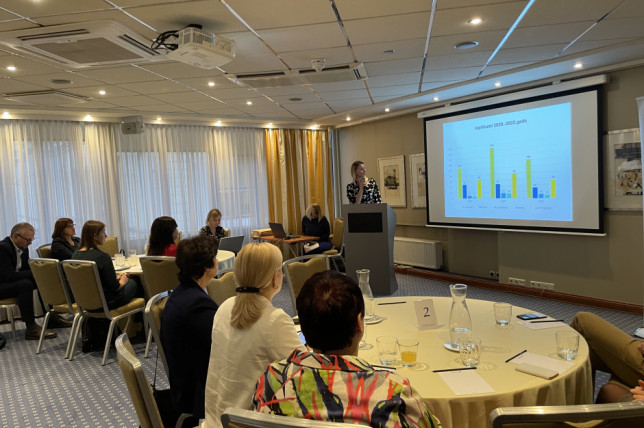 Nov 02, 2022 (13:00-17:30) - Workshop on value-based procurement. Read more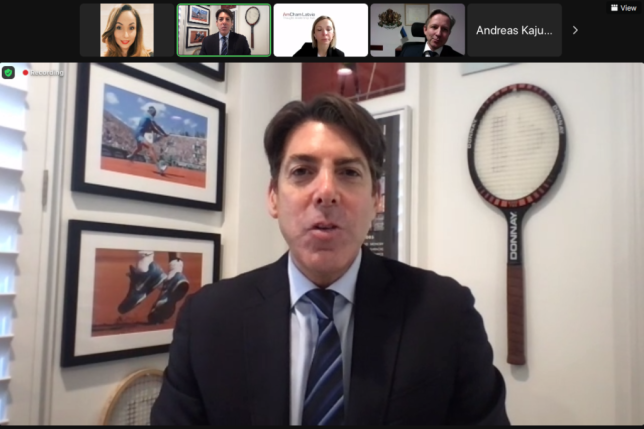 Nov 03, 2022 (10:00-11:00) - U.S. Midterm Election briefing with White House correspondent. Read more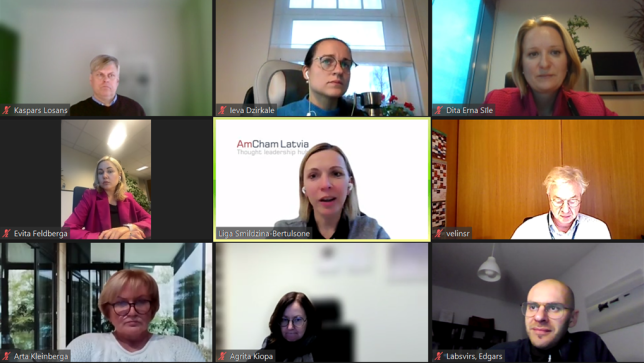 Nov 08, 2022 (15:00-16:00) - Discussing ongoing healthcare projects. Read more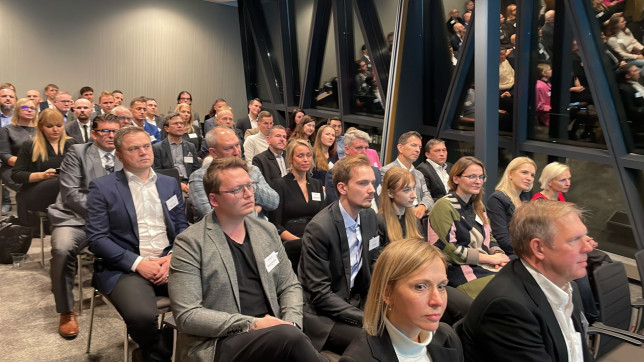 Nov 15, 2022 (18:00-21:00) - Welcoming new members. Read more
Nov 22, 2022 (12:30-15:00) - Addressing macroeconomic developments and outlook. Read more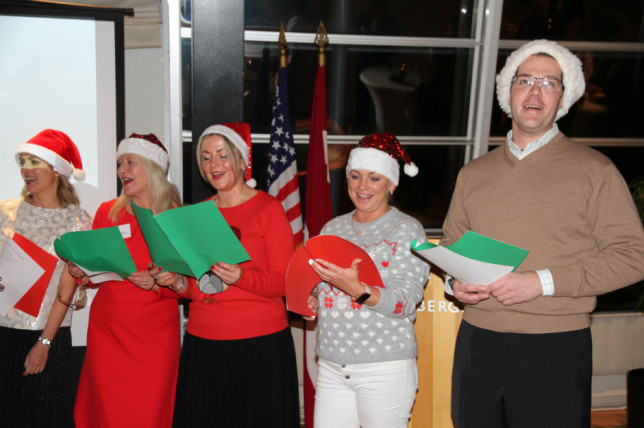 Dec 02, 2022 (18:00-21:00) - Celebrating Holiday Season and giving back to community. Read more
Green electricity generation: options for businesses

Our October luncheon with Sandis Jansons, CEO of Sadales tikls was devoted to the green electricity generation topic and options for businesses in Latvia. Mr. Jansons emphasized that the pace of development of microgeneration in Latvia is currently significantly higher than in Estonia. Currently, more than 10 000 micro-generators with a total electricity generation capacity of 81 MW have already been connected to the distribution system. Read more

Connect with AmCham: Post-election scene

On October 20, around 30 members and guests joined our webinar in Connect with AmCham series this time devoted to the Latvian post-election scene to explore the implications of the 14th Saeima election. Experts who participated in the live discussion were Vladlens Kovaļevs of VA Government Rud Pedersen Group, Tomass Pildegovičs, Foreign policy expert and Anna Udre, Journalist, Media Analyst and Communications Specialist. Read more

Riga Business School wins Best Chili 2022

The Riga Business School team, represented by Justin Bancroft and Denis Gorshkov won the title of the Best Chili in Riga 2022 for La Cocina Colorado chili. The Riga Graduate School of Law team (Kriss Elerts and Alise Podniece) received the most votes from attendees and won the People's Choice Award for their Chili can Law. Read more

Encouraging best corporate governance practices

On October 13, Corporate Contributing members joined Thought Leaders Series event with Andris Grafs, Vice President of the Baltic Institute of Corporate Governance who engaged in a live conversation with members exploring best corporate governance practices and ways to recognize governance risks. Read more

Baltic economies: between the anvil and the hammer

On October 10, members were invited to the Business After Hours hosted by Luminor Bank to engage in a discussion about the current economic challenges Dr. Zygimantas Mauricas, Chief Economist at Luminor Bank in Lithuania and a Lecturer at ISM University of Management and Economics. Read more

ACE Best Practice Sharing Conference in Sofia

Over 30 representatives from AmChams across Europe took part in the AmChams in Europe's annual best practice conference in Sofia, Bulgaria on October 5-8, 2022. AmCham Latvia, represented by its Executive Director Liga Smildzina-Bertulsone had the honor to enjoy an enriching program covering a number of timely topics including many opportunities for socializing and networking. Read more
Siemens Healthcare OY joins AmCham

Siemens Healthcare OY, a leading medtech company that pioneers breakthroughs in healthcare, has become a Corporate Contributing member. The company is constantly bringing breakthrough innovations to market by enabling healthcare professionals to deliver high-quality care, leading to the best possible outcome for patients. Their portfolio, spanning from in-vitro and in-vivo diagnostics to image-guided therapy and innovative cancer care, is crucial for clinical decision-making and treatment pathways. A warm welcome to AmCham! Read more

Welcome Iron Mountain Latvia

Iron Mountain Latvia, a global business dedicated to storing, protecting, and managing information and assets, has joined the Chamber as a Corporate member. The company provides solutions for records management, data backup and recovery, document management, secure shredding, and data centers. Welcome, Iron Mountain to AmCham! Read more

Renars Rusis joins membership

Renars Rusis, a financial services executive with over 22 years of experience across diverse areas of Treasury, Financial Markets, M&A, Technology, Sales and Marketing as well as Retail Business within Swedbank, has joined the Chamber as an Individual member. We warmly welcome Renars to AmCham! Read more
Saeima adopts lobbying regulation

On October 13, the Parliament of Latvia supported the law of the lobbying regulation which will enter into force on January 1, 2023. The register of interest representation and the declaration system will launch on September 1, 2025. The regulation aims to ensure transparency in the process of representing any interests or lobbying, in order to promote public confidence in public decision-making and ensure fair and equal opportunities for all individuals to take part in the representation of their interests. Read more

European Union-U.S. Data Privacy Framework announced

On October 7, President Biden signed an Executive Order to implement the EU-U.S. Data Privacy Framework, which sets the legal basis on the U.S. side for the successor agreement to the EU-U.S. Privacy Shield. View the Fact Sheet here. Read more

Register your OSAC account

The U.S. Department of State's Overseas Advisory Security Council (OSAC) encourages to register OSAC.gov. account and connect with the private sector. It is open for everyone, regardless of specialty or rank. OSAC collaborates with the private sector by providing ongoing threat awareness and crisis support, consultations, analysis, and programs and events. Signing up for an OSAC account will ensure that you are abreast of all current events and activities. Register today at OSAC.gov! Read more

Latest news from FICIL

Liga Abramovica recently joined the FICIL Executive Board and will serve on the Board for the remainder of Alvis Erglis term. She is the Chief Financial Officer at Orkla Latvija and holds a seat on the company's management board. Currently, FICIL is in the process to re-design their work groups by offering only a few main work groups with additional sub-groups and experts. On October 27, FICIL and Finance Latvia Association sent a letter to the political forces asking to establish a responsible entity to address climate and energy issues. Read more
RSU Ranks Top in Latvia and Second in the Baltics

For the second consecutive year, Rīga Stradiņš University (RSU) has been ranked as the best university in Latvia in the prestigious Times Higher Education World University Rankings. This year, RSU ranks 601–800 among the best universities in the world. The University of Tartu still ranks the highest among all Baltic universities, while RSU and Tallinn University of Technology share second place. Read more

Election results compiled

VA Government Rud Pedersen Group has put together the first results of the 14th Parliamentary election and a prediction for potential developments. The 14th Latvian Parliamentary election took place on October 1 and now the process of creating a coalition with yet again 7 political parties lies ahead. Read more

airBaltic and Dynatech among top employers

Two AmCham members have been recognized by MeetFrank: airBaltic and Dynatech as top employers in Latvia. The result is based on measuring the company's popularity by the number of positive matches with candidates on MeetFrank. MeetFrank is a headhunting app where 100s of recruiters approach candidates with relevant job offers. Read more

Latvijas Finieris marks 30th Anniversary

On October 2, Latvijas Finieris celebrated its 30th anniversary with a magnificent concert "Tree of Life". Latvijas Finieris expresses gratitude to everyone who responded to their initiative to support and provide equipment to the Latvian microsurgery mobile unit on the front lines in Ukraine. Thanks to the initiative more than 124,000 euros have been donated, fully covering the necessary costs of the equipment. Read more

Hotel Neiburgs offers its rooms for a special celebration. Read more

Hotel Bergs offers its conference room Glass Hall and a restaurant hall on the 1st floor for conferences and events. Read more

Enjoy a stylish stay in the center of Riga in a large luxury suite at the Hotel Bergs for a special rate. Read more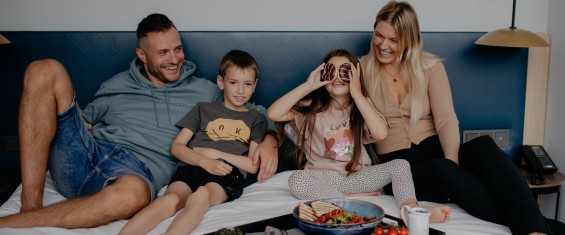 Special family offer from Hilton Garden Inn Riga Old Town. Read more

Mussels Special deal ALL U CAN EAT by Hilton Garden Inn Riga Old Town. Read more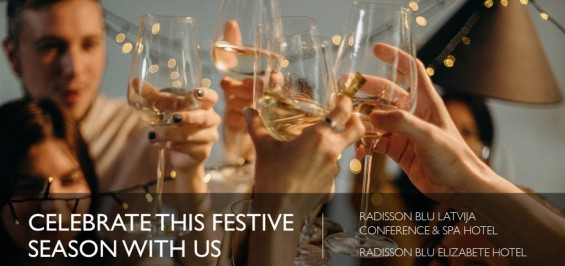 Celebrate New Year's Eve at Radisson Blu Hotel restaurants and bars: Restaurant Esplanade, Skyline Bar, Omega and Restaurant Cut on 31.12.2022! Read more

A very special offer from Radisson Blu Latvija Conference & Spa Hotel and Elizabete Hotel for a private festive dinner. Read more
Follow us on
Member of the AmCham network | © American Chamber of Commerce in Latvia 2023