Newsletter

March 2022
Welcome to our monthly newsletter.

For the second month the world is watching in horror and disbelief Russia's brutal attack on Ukraine. The ongoing invasion remains the key issue, therefore we have supported and organized sessions addressing the economic impact, sanctions, security concerns, workplace tensions and opportunities to provide humanitarian aid to the people of Ukraine. We have compiled information about practical assistance our members have been offering and urge everyone to continue these efforts. We are very proud of our members - ERDA, MikroTik, RMHC Latvija, SAF Tehnika and many many others who have brought significant practical support to Ukrainians in this dire moment. AmCham Latvia, along with 25 AmChams in Europe has also shown practical solidarity with the AmCham Ukraine team, donating EUR 2000. Overall more than EUR 40 000 have been collected to support our colleagues.

Now, more than ever, it is important to stand united in maintaining stability and economic security and strentghening economic ties with the U.S.

We look forward to seeing you in person at one of our upcoming events in April. Please check out the list of events listed below and sign up!
Apr 01, 2022 (08:00-19:30) - Spotlight Latvia takes place in L.A.. Read more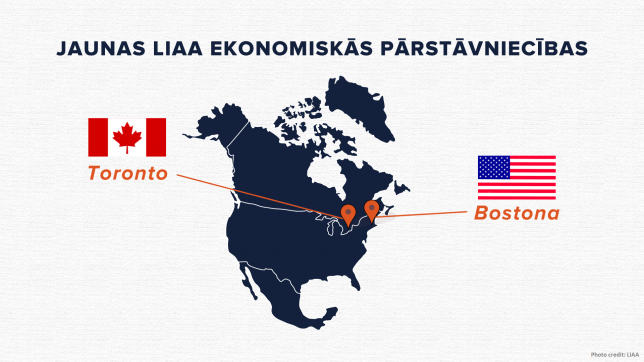 Apr 03, 2022 (16:30-18:30) - LIAA launches office in Boston. Read more
Apr 04, 2022 (16:00-17:00) - Discussing latest healthcare projects. Read more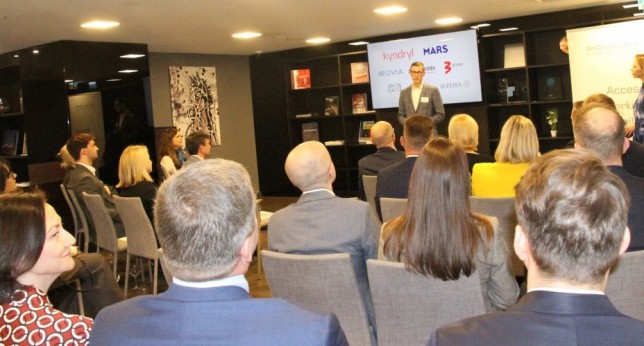 Apr 06, 2022 (18:30-21:00) - Being together and networking. Read more
Apr 20, 2022 (12:00-14:00) - U.S. and Latvia: Unlocking opportunities in times of uncertainty. Read more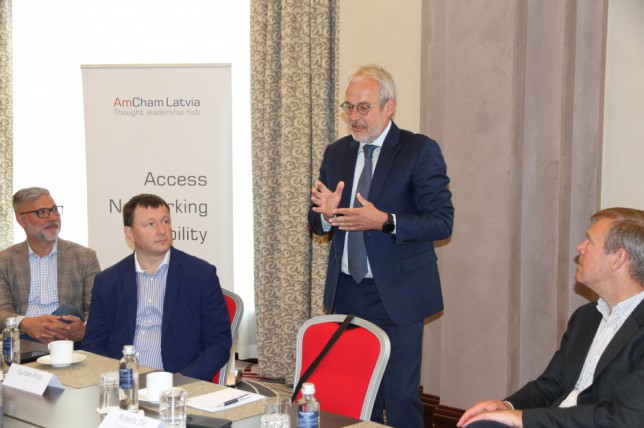 Jun 17, 2022 (10:00-12:00) - A view from the EU Parliament. Read more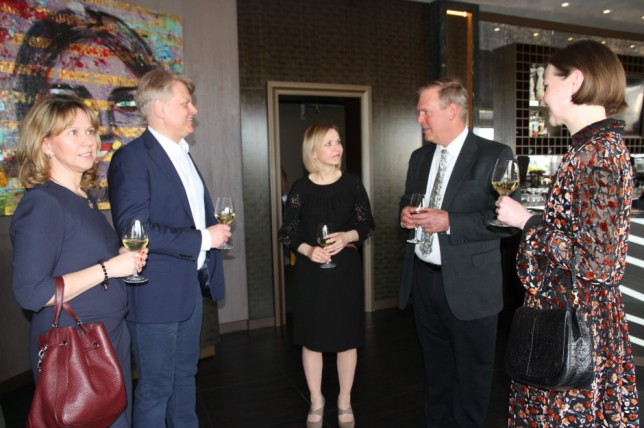 May 19, 2022 (17:30-21:00) - Enjoying opera "Don Giovanni" premiere. Read more
John Tully re-elected as President of AmCham

On March 11 during the board meeting, John Tully, CEO of MikroTik was re-elected as the Chairman of the Board and President of AmCham Latvia for 2022-2023. According to John, "During this time of geopolitical crisis, the mission of AmCham remains more important than ever - to continue strengthening further economic and business ties with the U.S. As representatives of American and international business community, we stand united in maintaining stability and economic security in Latvia. The power of our network remains even more important as we navigate through the fallout of the appalling war in Ukraine. We stand with the people of Ukraine and pledge to help however we can." Read more

AmCham reviews last year activities and elects board

On March 10, AmCham held its 29th Annual General Meeting to review the past year's activities, elect the Board of Directors and make other important decisions for the business continuity. Zanda Kalnina-Lukasevica, Parliamentary Secretary of the Ministry of Foreign Affairs and U.S. Ambassador Carwile opened the meeting with remarks focusing on on the current Ukraine-Russia war. The AGM elected new member Edgars Labsvirs of Medtronic and re-elected Liene Dubava of Nasdaq Riga, Dita Erna Sile of Novartis Baltics and John Tully of MikroTik to the Board of Directors. All are elected to serve two-year terms. Read more

Mission modern working

On March 30, members kicked-off the spring season with the first Business After Hours of 2022 at co-working space Workland. The event was kindly hosted by AmCham members Strategic Staffing Solutions International and Nordwoc in collaboration with the Digital Health Cluster Latvia. The program included networking, presentations on new ways of working, introduction of AmCham members who are based in Workland and pitches of startups Asya, Knop Knop and Rehabing. Read more

Ukraine-Russia war: geopolitical and economic impact

On March 3, AmCham in cooperation with the Latvian Institute of International Affairs held a discussion with prominent speakers from NATO, the Atlantic Council and Citadele bank on the Ukraine-Russia war and its implications to individuals and companies doing business in the region. Experts touched upon risks, challenges and opportunities in an increasingly complicated geopolitical environment. Read more

Supporting employees affected by the crisis

On March 23, members were invited to the Connect with AmCham webinar to discuss how to manage Ukraine-Russia crisis within organizations, lessen tensions between employees and ways to support employees at this critical time. Our experts and members Pārsla Baško, ERDA and Toms Šulmanis of COBALT gave practical examples for employers who experience tensions and conflicts between different views and are concerned about the wellbeing of their employees. Read more

Upcoming changes in education system in Latvia

On March 11, members had an opportunity to meet Anita Muizniece, Minister of Education and Science and hear more about the upcoming changes in the education system of Latvia. The Minister spoke about the necessity of advancing digital skills and life-long learning to adapt to the changing labor market needs. Read more

Pan-Baltic OSAC event: Border security and labor issues

AmChams in the Baltics in cooperation with the Overseas Security Advisory Council (OSAC) met for a webinar to explore border security and labor issues. Representatives from all Baltic Immigration offices and industry representatives discussed opportunities, challenges and risks for recruiting talent from neighboring non-EU countries. They touched upon the current situation in Ukraine which will change the situation in the Baltic labor market. The event was moderated by Roberts Melbardis, Vice President of AmCham Latvia and Co-Chair of OSAC Riga. Read more

Security & business outlooks in Ukraine, the Baltic and Nordic Region

On March 21, our Executive Director Liga Smildzina-Bertulsone represented AmCham Latvia in the second AmChams in Europe live event to discuss security perspectives, narratives, and business outlooks in Ukraine, the Baltic and Nordic region. Liga emphasized Latvia's outpouring support and solidarity for the people of Ukraine and the fact that the country stands in its safest and most secure position in history being part of the EU, European single market, Eurozone and NATO. Revisit the event. Read more
Kyndryl joins AmCham

Kyndryl was spun-off of IBM IT infrastructure services in 2021. Their global base of customers includes 75 of the Fortune 100 companies. With 88,728 skilled professionals operating from over 100 countries, Kyndryl is committed to the success of their customers, collaborating with them and helping them to realize their ambitions.We welcome Kyndryl as our new Corporate Contributing member. Read more

Welcome Superia

Superia, the leading Baltic financial advisory firm with unrivalled experience in corporate finance advisory, has joined AmCham as a Small Business member. Superia provides independent advice on every aspect of executing mergers, acquisitions, divestitures, debt and equity capital raising and corporate restructuring transactions to domestic and international corporate clients, private equity and institutional investors, private entrepreneurs, and governments. Read more
26 AmChams in Europe join forces to support AmCham Ukraine team

We are proud to announce that the AmCham community of 26 AmChams in Europe including AmCham Latvia has collected 28 250 EUR and 15 900 USD to be donated to the AmCham Ukraine team. Read more

SEB bank doubles employee donations to support Ukraine

In order to support the people of Ukraine who have been forced to leave their country or are experiencing the horrors of war while remaining in their homeland, SEB banka has donated 150,000 euros to the Red Cross Society in the Baltics. The bank has also cancelled the commission fee for their customers for money transfers on the "Ziedot.lv" portal, as well as for transfers in the internet bank to the "Ziedot.lv" SEB account. Read more

AbbVie's response to the Ukraine crisis

AbbVie is donating a total of 1 million USD to NGO partners for medical care and supplies for Ukraine and Ukrainian refugees, essential medicines to the Ukrainian government, providing financial support to Ukrainian employees and their immediate families as well as doubling the AbbVie Foundation's employee donation match for select disaster relief partners with active humanitarian relief efforts in Ukraine and surrounding countries. Read more

MikroTik's humanitarian aid to Ukraine exceeds €300 000

By March 25, MikroTik has provided more than €300,000 worth network equipment as part of its humanitarian support to Ukraine. This includes setting up network connections in bomb shelters and crisis centres of Ukraine, as well as refugee facilities in Poland and Romania. Read more

Swedbank joins in supporting Ukraine

Swedbank's friendly team invites the people of Ukraine to apply for the open positions in Swedbank. The bank donated 100,000 euros to Ziedot.lv to support non-governmental organizations and offers their customers to make all payments to Ukraine without any bank commission fee as of February 24, 2022. Read more

Cognizant commits a million to 4 organizations

Cognizant is committing 1 million USD to four organizations that are delivering food, water, shelter, healthcare, and economic assistance across the region, to aid in the humanitarian relief efforts: Global Giving's Ukraine Crisis Relief Fund, International Rescue Committee, World Central Kitchen, and UNICEF. Their Latvian associates take it upon themselves to get involved in supporting activities with refugees, donations, voluntary work and many more. Read more

RMHC Latvija steps up to help Ukraine

Ronald McDonald Care Mobile Latvija (RMHC Latvija) has arrived at the Poland border to help provide first aid to thousands of Ukrainian refugees. In collaboration with a team of Polish medical staff, the RMHC Latvija Care Mobile unit is full of medical supplies and ready to provide 24/7 support to children and families from Ukraine. The Care Mobile has already traveled to 10 villages and provided first aid to more than 300 Ukrainians. Read more

New tool to convert Ukrainian medicines to EU equivalents

In response to the situation in Ukraine, IQVIA, in co-operation with Proxima Research International, has developed a website to help convert the name of medicines prescribed in Ukraine to equivalents in other European countries. IQVIA hopes this website will help doctors, pharmacists, clinics, charities, governments, and health providers find medication solutions for patients. Read more

Luminor welcomes Ukrainian talent

Luminor is offering employment for people displaced by the invasion of Ukraine, waiving fees on payments to Ukrainian bank accounts as of February 24, 2022 and also supporting the efforts in humanitarian aid by donating 100 000 EUR to the Baltic organizations dedicated to helping refugees. Read more

Novartis expands humanitarian efforts in Ukraine

At the end of March, Novartis has delivered more than 600 thousand packs of antibiotics, painkillers, cardio-vascular, and oncology treatments to maintain supply to those who rely on these drugs in Ukraine and in the border areas where people are seeking refuge. This is in addition to their initial donation of USD 3 million to humanitarian organizations including International Red Cross and Red Crescent Movement, Save the Children and International Rescue Committee. Read more

Helping people from Ukraine find jobs in Latvia

A unified Latvian employer vacancy portal for the people of Ukraine who are looking for jobs in Latvia has been developed by ERDA, the Red Jackets and Helve: www.ukrainetolatvia.teamtailor.com. Companies who wish to participate in this initiative and offer jobs to the people of Ukraine are invited to fill in the questionnaire HERE. Read more

SAF Tehnika donates €100 000 to Ukrainian army

At the end of February, SAF Tehnika announced their donation of 100,000 EUR to support Ukrainian army. On March 2, The National Bank of Ukraine decided to open a special fundraising account to support the Armed Forces of Ukraine. Read more
Navigating the new reality in the financial sector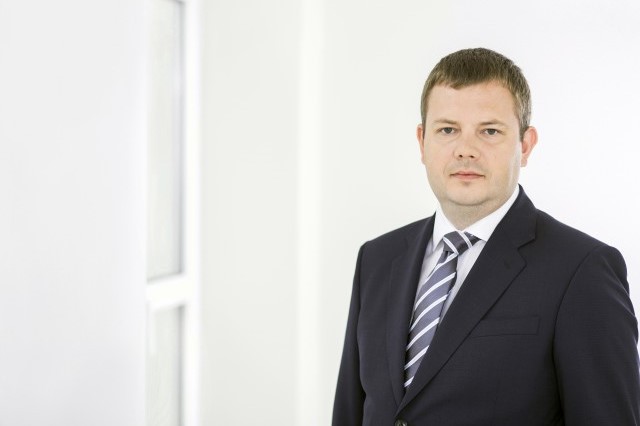 AmCham speaks with Edgars Lodziņš, Partner and Head of Banking and Finance at COBALT Latvia on major challenges the COBALT team and the banking and finance sector is currently facing. The largest investment and capital market transactions were mentioned and the impact of Ukraine's invasion on the global economy was also discussed. Read more
Biden's visit to EU and Poland

On March 25, President Biden met with world leaders in Brussels before heading to Poland where he visited U.S. troops and received an update on relief efforts for Ukraine. On March 26, he met with Polish President Andrzej Duda and Ukrainian refugees in Warsaw. Revisit his speech. Read more

Transatlantic economy hit record-breaking numbers

The Transatlantic Economy 2022 presents the most up-to-date facts and figures about the economic relationship. The study includes dedicated profiles for 30+ European countries and all US states. This year's study features new insights into how the war in Ukraine affects the transatlantic relationship, the impact of the COVID-19 pandemic, prospects for the recovery, global supply chain issues, relations with China and the transatlantic energy economy. Read more

Statement on new EU-US framework for transatlantic data flows

On March 25, U.S. President Biden and EU Commission President von der Leyen announced that the EU and the US have found an agreement in principle on a new framework for transatlantic data flows. Striking the balance between the free flow of data and the protection of privacy remains critical to both companies and citizens. Read more

AmCham proposes to balance tax burden for foreign investors

AmCham Tax Working group has created a proposal to address the disparate tax burden on foreign investors who are natural persons receiving dividends but cannot apply double tax treaty benefits due to the new corporate tax system implemented in Latvia since 2018. On March 3, AmCham addressed the Ministry of Finance with its proposal. Read more

Improving cancer care coordination and screening in Latvia

On March 16 AmCham hosted a dinner meeting for members of AmCham's Healthcare work group, key healthcare stakeholders in Latvia and a group of experts from the EU Technical support project "Improving cancer care coordination and screening in Latvia and Slovakia". According to the experts the main goal of this project is to reduce inequality and provide comprehensive cancer care services to the majority of the Latvian population. Read more

International sanctions against Russia and Belarus explained

On March 17, the Latvian Chamber of Commerce and Industry in collaboration with Finance Latvia Association, Employers' Confederation of Latvia, FICIL, Ministry of Foreign Affairs, Financial Intelligence Unit, Financial and Capital Markets Commission, State Revenue Service and KPMG Baltics held a webinar aimed at general awareness raising and increased understanding of the international sanctions imposed on Russia and Belarus. Revisit event. Read more

Update on FICIL's activities

On March 2, FICIL elected Zlata Elksniņa- Zaščirinska as the Head of the Board and Ints Krasts and Reinhold Schneider as Vice-Chairpersons. The following WGs have scheduled their meetings for the next month: digitalization, green economy development, labor & requalification as well as transport and infrastructure. You are invited to take part in one of its many working groups by signing up here. Read more

VA Government joins Rud Pedersen Group

Strategic communications agency VA Communications and public affairs firm VA Government have joined the Rud Pedersen Group, becoming their exclusive partner in Latvia. The Rud Pedersen Group is the leading and fastest-growing Nordic public affairs and communications group in Europe acquiring a 20% stake in both companies. Read more

First breastmilk bank launched in Latvia

On March 24, the Children's Hospital with its partners launched the first breastmilk or Mother's Milk bank in Latvia. The bank is established with the help of donations and the Children's Hospital Foundation and its maintenance will be ensured by the state. Read more
RSU International COVID-19 Virtual Conference: Impact, Innovations and Planning, April 28-29. Read more

Grand Hotel Kempinski Riga is back with Sunday branches served once a month from 12:30 until 16:00. The closest one on April 17, 2022 - Easter Brunch. Read more

Grand Hotel Kempinski Riga invites to Charity Dinner Offer on April 7, 2022 at 19:00 to support the people of Ukraine. Read more
Follow us on
Member of the AmCham network | © American Chamber of Commerce in Latvia 2023